Welcome!
Grateful Hubby started in Nov. 2009 as a food blog. These days I enjoy spreading the word about the burgeoning San Jose and South Bay beer scene primarily here on my Grateful Hubby site (since Feb. 2011 and revamped in April 2016 to what you – mostly – see now) and occasionally for The San Jose Blog (since May 2013). I've also written about the local beer scene for Examiner.com (Nov. 2011-June 2016) and Metro Silicon Valley Newspaper and its online site SanJose.com (July 2012-July 2015).
Born and raised in San Jose, I'm a college counselor and instructor, family guy and health nut. You can find me as "gratefulhubby" on Facebook, Instagram, Twitter and YouTube, and in real life often with my wife Andrea, our kids (aged 8 and 25) and our friends.
Please explore the various tabs (e.g., Beer Writing, News & Events, Breweries, etc.) and contact me with any updates. Let me know if there's a local beer story I should know about; I'll gladly help spread the word.
Prost! Gunbae! Cheers!
~Andy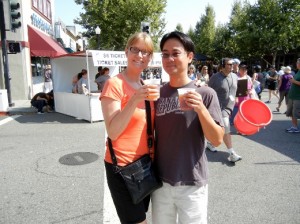 Listed below are some select posts focused on a bit of South Bay beer history and my ongoing Q & A series featuring many of the stalwarts of the local beer community.
Growth of South Bay Beer
April 1, 2015: Growth of San Jose and South Bay Beer Scene is No Joke
July 24, 2014: The Downtown San Jose Beer Scene
July 18, 2012: A Brief History of Craft Beer in the South Bay
July 18, 2012: July 2012 – Taking Inventory of the San Jose Area Craft Beer Establishments
Dec. 22, 2011: Taking Inventory of the San Jose and South Bay Craft Beer Establishments
Interviews and Q & As
Nov. 9, 2016: 'For Pete's Sake" Brewfest at CEFCU Stadium in San Jose, Plus Q & A with Peter Cogan
Sep. 29, 2016: Q & A with Ravi Takhar of Stuft Pizza Milpitas, Plus the Latest on the Soon-to-Open IBU Taproom & Bottle Shop
Sep. 19, 2016: Q & A with Taplands Founder Matt Hartenstein
Aug. 14, 2016: Q & A with Strike Brewing Company Brewer Ryan Bridge, Plus Bullpen Series Origins and 2-Year Anniversary Celebration
April 13, 2016: 2nd Annual Pints for Pups, Q & A with Beer Hounds Lance Boyle and Deb Anderson
March 16, 2016: Steins Beer Garden & Restaurant Three-Year Anniversary Celebration, Plus Q & A with Owner Ted Kim
Feb. 10, 2016: Golden State Brewery Grand Opening in Santa Clara, Plus Q & A with Owners Seth Hendrickson and Brian Gomez
Dec. 1, 2015: Good Karma Hosts Russian River Brewing Beer Dinner, Plus Q & A with Owner Ryan Summers
Sep. 9, 2015: Wicked Chicken in Santa Clara Celebrates Four-Year Anniversary, Plus Q & A with Owner Matt McClean
Aug. 4, 2015: Introducing Uproar Brewing Company, Plus Q & A with Uproar Brewmaster Mike Willaford
July 15, 2015: Original Gravity Celebrates Three-Year Anniversary, Plus Q & A with General Manager Rob Monroe
June 23, 2015: Beer Snobiety Celebrates One-Year Anniversary, Plus Q & A with Co-Founder Joe Nguyen
March 23, 2015: Steins Beer Garden & Restaurant Celebrates 2nd Anniversary, Plus Q & A with Owner Ted Kim
March 22, 2015: Special Beer Release: Single Bourbon Barrel Aged 2 Tun from Hermitage Brewing, Plus Interview with Head Brewer Greg Filippi
Dec. 5, 2014: Mission Creek Brewing Company in San Jose Set to Open Dec. 9, Plus Interview with Brewmaster Guy Cameron
Oct. 28, 2014: Whole Foods Brewery on The Alameda Selects Brewmaster, Plus Q & A with Beer Manager Wesley Miller
May 22, 2014: Strike Brewing Company to Open Brewery and Tap Room, Plus Q & A with Owners Jenny Lewis and Drew Ehrlich
Feb. 27, 2014: ISObeers: New Beer Tasting Room in Downtown San Jose, Plus Q & A with Owner Dee
Oct. 17, 2013: Catching up with Strike Brewing Company, Big News on the Brewery Front, Plus Q & A with Owners Jenny Lewis and Drew Ehrlich
May 27, 2013: Mountain View's Tied House Celebrates 25th Year, Plus Q & A with Owner Lou Jemison
May 14, 2013: Gordon Biersch 25th Anniversary, Plus Interview with Co-Founder Dan Gordon
April 29, 2013: Santa Clara Valley Brewing Brews Inaugural Beer, Plus Q & A with CEO Tom Clark
Jan. 18, 2013: Hard Hat Tour of Steins Beer Garden & Restaurant in Downtown Mountain View, Plus Interview with Owner Ted Kim and Executive Chef Colby Reade
Nov. 26, 2012: Silicon Valley Sudzers: The South Bay's Premier Homebrew Club, Plus Q & A with Club President Derek Wolfgram
Nov. 7, 2012: Co-op Brewpub in San Jose in Initial Planning Stages, Plus Q & A with Driving Force Peter Smith
July 11, 2012: Premier South Bay Bottle Shop Bobby's Liquors, Soon-to-Open ISO: Beers, Plus Q & A with Dee Singh
June 28, 2012: Ten Questions with South Bay Brewmaster Steve Donohue
June 12, 2012: SmokeEaters: Hot Wings, Hellfire Challenge, and Now Craft Beer; Plus Q & A with General Manager Mike Burke
June 4, 2012: Kelly's Liquors: San Jose's Go-To Craft Beer Bottle Shop, Plus Q & A with Manager Jake McCluskey
May 31, 2012: 2012 Better Brew Tasting Garden Craft Beer Festival, Plus Q & A with BetterBeerBlog's Peter Estaniel
May 17, 2012: Ten Questions with Brewmaster Peter Licht of Hermitage Brewing Company
April 7, 2012: Original Gravity Public House to Open in Downtown San Jose Early Summer, Plus Q & A with Co-Owner Dan Phan
Feb. 8, 2012: South Bay Brewmasters Dinner at California Cafe Palo Alto, Plus Q & A with Executive Chef Mark Pettyjohn
Feb. 1, 2012: 3rd Annual Meet the Brewers Festival in San Jose, Plus Q & A with BetterBeerBlog's Peter Estaniel, Part 2 of 2
Feb. 1, 2012: 3rd Annual Meet the Brewers Festival in San Jose, Plus Q & A with Director of Marketing Carolyn Hopkins-Vasquez, Part 1 of 2
Jan. 26, 2012: Jack's Bar & Lounge and Dishcrawl Host Inaugural SJ Beerwalk in Japantown, Plus Q & A with Jack's Co-Owner Jordan Trigg
Jan. 21, 2012: Naglee Park Garage at it Again with the Winter KraftBrew Beer Fest 2012, Plus Q & A with Co-Owner Luis Silva
Jan. 12, 2012: Enjoy SF Beer Week in San Jose at Harry's Hofbrau, Plus Interview with General Manager Kevin Olcese
Jan. 5, 2012: Strike Brewing Company: New South Bay Brewery, Upcoming Launch Party and Q & A with Owners Jenny Lewis and Drew Ehrlich