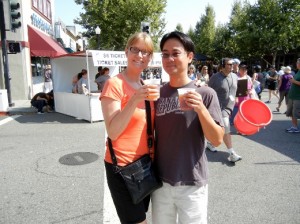 Hi and welcome. GH started in Nov. 2009 as a food blog. These days I spread the word about the burgeoning beer scene in San Jose and the South Bay. You'll see my writings about the local beer scene on Examiner.com (since Nov. 2011), occasionally in the Metro Silicon Valley Newspaper and its online site SanJose.com (since July 2012), The San Jose Blog (since May 2013) and here (since Feb. 2011).
Besides being a cheerleader for the San Jose and Silicon Valley beer scene, I'm also a family guy, college instructor and health nut.
Please contact me if there's a local beer story I should know about, and I'll gladly help spread the word.
Prost! Gunbae! Cheers!
~Andy