Wifey and I love wine. But craft beer is a current passion of ours. Last week, we set up an impromptu, tasting session of 4 beers from Firestone Walker Brewing Company of Paso Robles, which we recently got from our local Costco store. We also took some tasting notes on each of the beers, modeled after some of the simpler reviews I've seen lately on BeerAdvocate.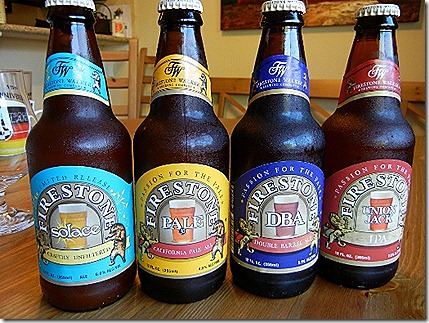 On to the tasting and our notes:
Beer #1.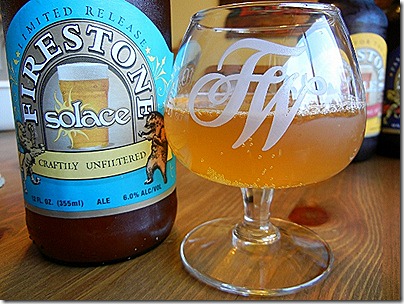 Beer #1 pictured above: Solace. Beer style: Summertime fusion wheat beer. ABV: 6.0%.
A (Appearance): Wifey sees golden yellow. I see yellow/gold.
S (Smell): She notes slight yeastiness. I note honey.
T (Taste): She tastes mild yeastiness. I taste cracker; honey; very smooth hoppiness.
M (Mouthfeel): She says tingly. I say smooth.
O (Overall): She says great summer beer; even owns the t-shirt that goes with this beer, but will admit that it was originally because of the t-shirt color. I say nice beer.
Beer #2.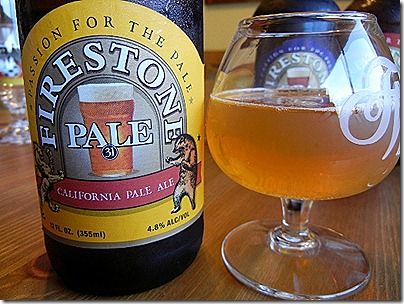 Beer #2 pictured above: Pale 31. Beer style: California pale ale. ABV: 4.8%.
A: Wifey sees deep golden. I see gold.
S: She notes pleasant hoppiness. I note slight hoppiness.
T: She tastes pleasant hoppiness. I note very smooth hoppiness; well balanced.
M: She says tangy; invigorating. I say smooth.
O: She says nice pale ale. I say excellent pale ale.
Beer #3.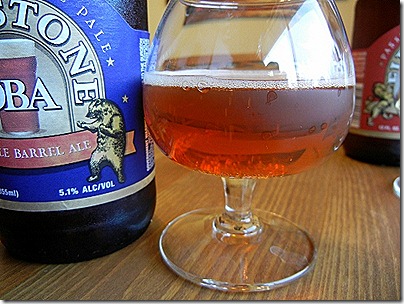 Beer #3 pictured above: DBA. Beer style: English style bitter/amber ale. ABV: 5.0%.
A: Wifey sees amber. I see amber.
S: She notes she can't pick up a smell. I note hint of caramel.
T: She tastes very slight bitter notes. I taste caramel; rich maltiness.
M: She says smooth; eventual tangy-ness in back of mouth. I say very smooth.
O: She says very different after having tried the 2 previous beers versus drinking DBA on its own, which has been her favorite beer since she first tasted it about 5 months ago. I say utterly drinkable.
Beer #4.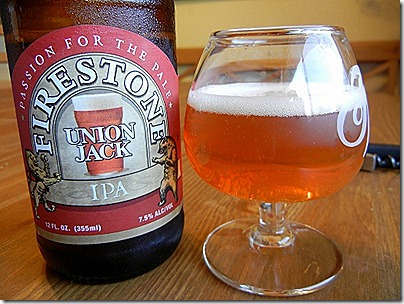 Beer #4 pictured above: Union Jack. Beer style: American IPA. ABV: 7.5%.
A: Wifey sees amber. I see gold/amber.
S: She notes slight hoppiness. I note hoppy.
T: She says oh, really nicely balanced; hops and malt(?); amazing; sweet up front and eventual bitter notes; all pleasant. I taste delicious hoppiness; very well balanced; wow factor.
M: She says slightly tangy. I say smooth.
O: She says very nicely balanced. I say I've had this beer once before, and it was too bitter at the time; but right now, it's delicious.
More pictures from the tasting: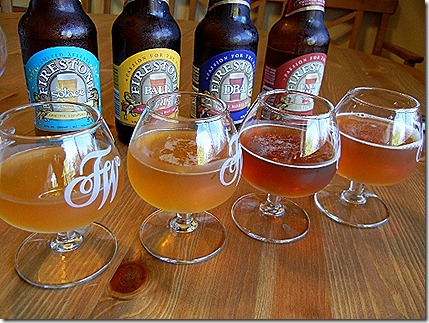 Some mini meatballs that I made to help wash down the beers. :)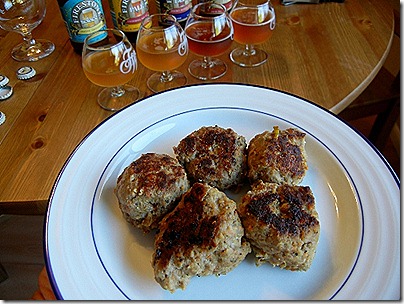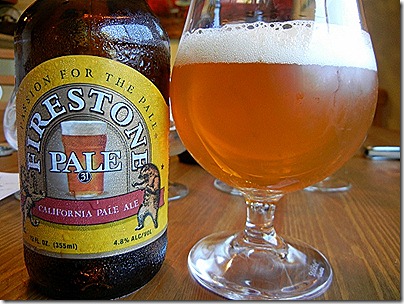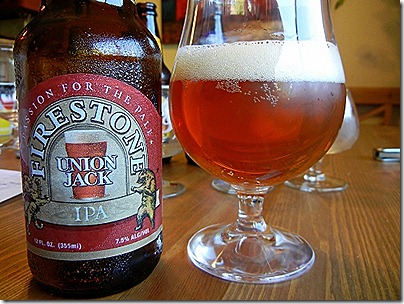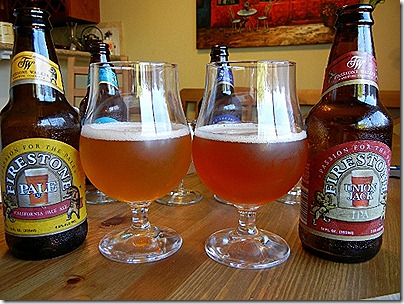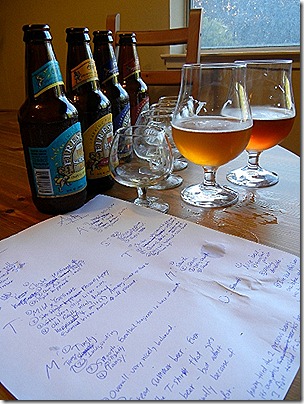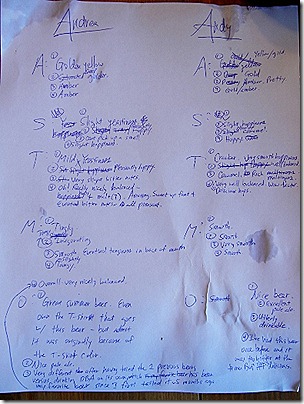 We're relatively new to really enjoying craft beers, so it's nice to establish some sort of a benchmark on these beer styles. Also, after our tasting session and note taking, I came across several informative resources that'll help with better beer tasting notes:
Still, we definitely had fun jotting down notes while tasting beer. Consequently, wifey and I definitely look forward to continuing to take notes as we try other beers.
Cheers!
~Andy