As part of their ongoing beer and food pairing dinner series, California Café Palo Alto last Thursday featured beers from Escondido's Stone Brewing. Wifey and I were fortunate enough to attend. Thanks, bro', for childsitting!
Let's just get to the verdict now: the dinner and beers were awesome. Executive Chef Mark Pettyjohn, along with his team, once again showed his love for beer and food by creating fun, artistic, and delicious dishes. Here are our pics: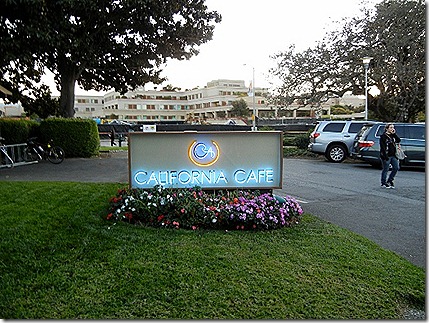 When wifey and I got there, we noticed that we had our own booth, which was  a surprise to us as we thought that we would be sitting with some folks whom we had met at the previous brewmaster's dinner. Alas, most of these folks did not show up. Note to self: get the contact information of folks whom we meet and with whom we want to stay in touch.
The menu.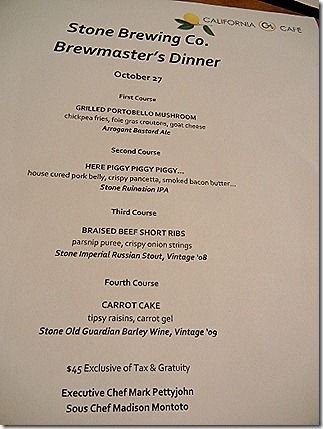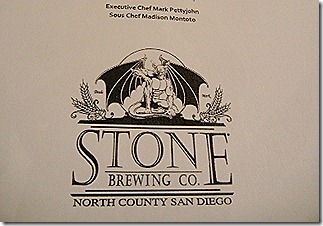 And before long, the first course had arrived.
Arrogant Bastard Ale (American strong ale, 7.2% ABV).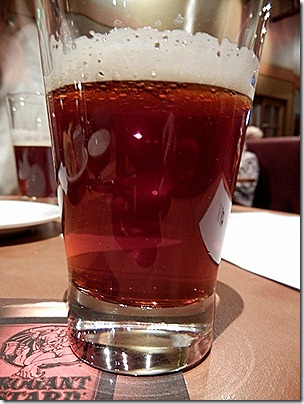 Grilled portobello mushroom with chic pea fries, foie gras croutons, goat cheese. Neither wifey nor I had ever had foie gras, and it was fun to get an introduction to it in the form of croutons. The chic pea fries were tasty and a nice change from "regular old fries." Our favorite part of the dish were the portobello mushroom slices.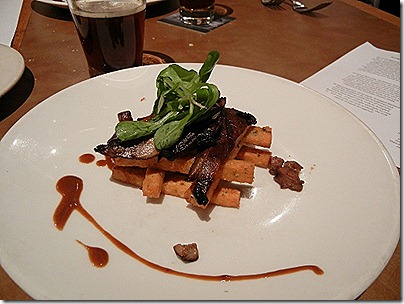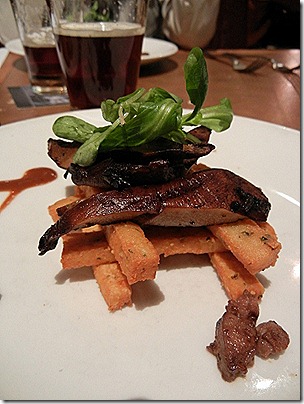 Second course:
Stone Ruination IPA (American double/Imperial IPA, 7.7% ABV).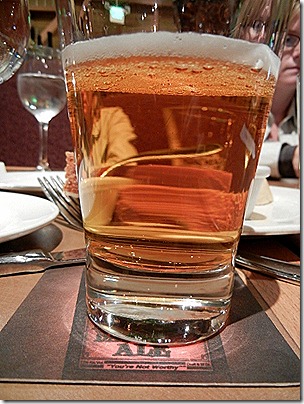 "Here piggy piggy piggy…" House cured pork belly, crispy pancetta, smoked bacon butter. The bitter hoppiness of the IPA cut nicely through the richness of this tasty dish. The pancetta was salty and crispy and just a joy to eat. The pork belly was soft, juicy, and rich. The two very different preparations of pork went very nicely together and were even more enhanced by the beer.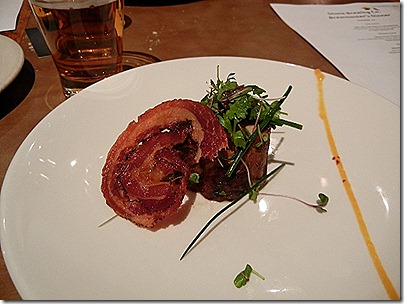 Cheers!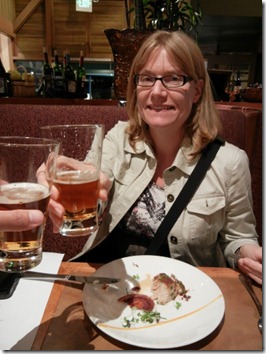 The introduction of the food and the beer is what makes the beer dinners at California Cafe so special. It's a treat to see Chef Mark so excited about the dishes he creates and to learn a bit about all the prep and planning that go into the individual courses. It's also nice to hear more about the beers directly from a brewery rep.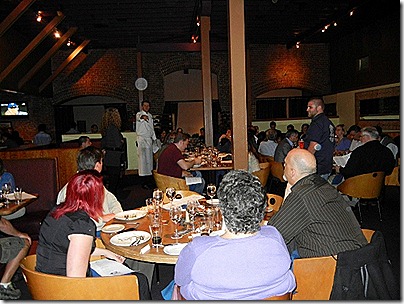 Surprise course:
Cherry chocolate stout (Milk/sweet stout, 7.3% ABV).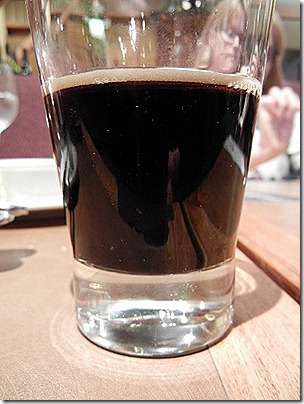 Duck with cherry topping, polenta with white chocolate, beer chocolate cherry sauce. The pairing in this dish worked extremely well as the cherry notes in the beer were represented very pleasantly in the dish. I have not eaten a lot of duck, and never duck like this. To say I was pleasantly surprised would be an understatement.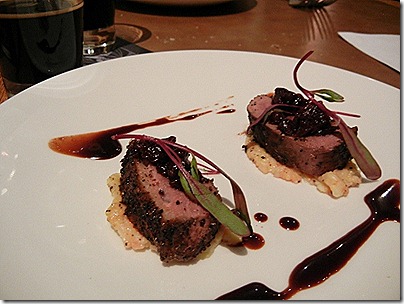 Executive Chef Mark Pettyjohn.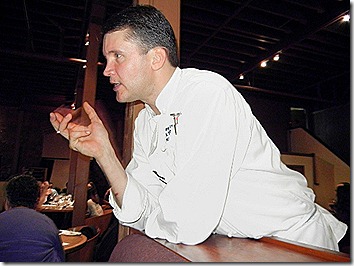 He stopped by to ask us how we were doing. And then he stayed for quite some time talking with us, which wifey and I sincerely appreciated.
Third course:
Stone Imperial Russian Stout, Vintage '08 (Russian imperial stout, 10.5%).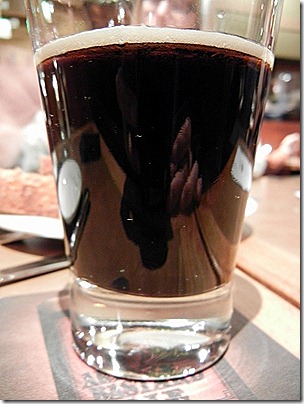 Braised beef short ribs with parsnip puree, crispy onion strings. I enjoyed this course but wifey loved it. She couldn't get enough of the parsnip puree and talked about making it at home. I can't wait! The beef had a mild flavor, but only because I'm so used to soy sauce heavy Korean braised short ribs; wifey thought it was perfect as is.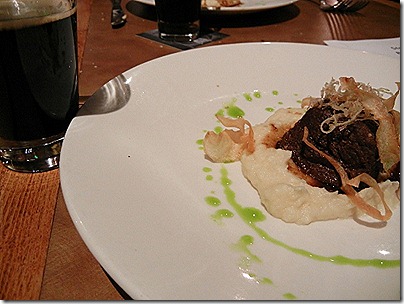 Fourth course:
Stone Old Guardian Barley Wine, Vintage '09 (American barleywine, ~12% ABV).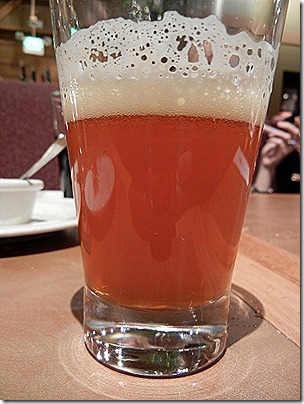 Carrot cake with tipsy raisins, carrot gel. The dessert was AMAZING! Neither wifey nor I had ever had barleywine, and we'll have to try it a few more times to learn to fully appreciate it. But that didn't stop us from polishing off the most amazing carrot cake. The highlight was the carrot cake wrapped in a lumpia wrapper and then deep fried. It was warm, flavorful, and simply perfect.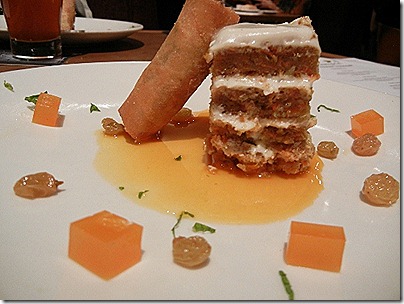 Awesome food. Awesome beers. Awesome dinner date. Awesomeness all around.
Always Grateful,
~Andy