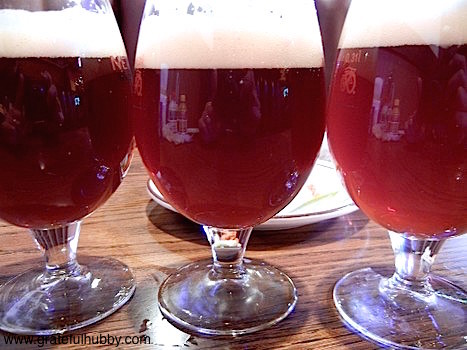 There is a Stone Brewing Co. event this evening, Wed., Dec. 7, at Palo Alto's The Rose and Crown at 5 p.m., where co-founder Greg Koch will be on hand to sign copies of his newly published book, The Craft of Stone Brewing Co.
Among the Stone beers on tap:
Stone Levitation Ale (American amber/red ale, 4.4%)
Stone 11.11.11 Vertical Epic Ale (Belgian strong pale ale, 9.4%)
Arrogant Bastard Ale (American strong ale, 7.2% ABV)
Double Bastard Ale (American strong ale, 10.5%)
Stone Sublimely Self-Righteous Ale (American black ale, 8.7%)
Stone IPA (American IPA, 6.9%)
Stone Ruination IPA (American Double IPA, 7.7%)
Stone Smoked Porter with Chipotle (American porter, 5.9%)
The Rose and Crown has indicated that they will have a limited amount of the book for the signing.
Tomorrow, Thur., Dec. 8, fans of Paso Robles' Firestone Walker Brewing Co. will rejoice with a tap takeover at San Jose's Harry's Hofbrau starting at 6 p.m.
On tap will be:
DBA (English pale ale, 5.0%)
Pale 31 (American pale ale, 4.8%)
Union Jack IPA (American IPA, 7.5%)
Double Jack DIPA (American Double IPA, 9.5%)
Velvet Merlin (oatmeal stout, 5.5%)
The highlight of the evening will be the keg tapping of the limited 15th Anniversary Ale (American strong ale, 12.5% ABV).
[This post was shared on Examiner.com.]