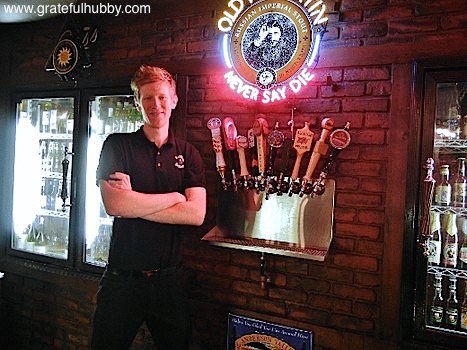 You might know Harry's Hofbrau (390 Saratoga Ave.) as the restaurant that serves German-inspired, family friendly meals at reasonable prices. But the hiring of Kevin Olcese as the general manager of Harry's Hofbrau in late 2010 has served as a boon for the San Jose craft beer scene.
Immediately after taking on the general manager role, Kevin went about leveraging his previous experiences in various roles working for Harry's Hofbrau plus work experiences at the Tied House Cafe & Brewery formerly in San Jose, BJ's Restaurant and Brewhouse in Cupertino, and The Mountain Winery in Saratoga, to help enhance not only the restaurant side, but also their bar side with an increasing inventory of compelling craft beer offerings.
Passion for Craft Beer and San Jose Pride
Kevin's passion for craft beer was cemented during the latter part of his college years, quickly evolving from American lagers, to Sierra Nevada pale ales, to Firestone Walker's Double Jack. He now possesses a seemingly encyclopedic memory of all the topnotch breweries and craft beers. And proudly calling San Jose home for the past four years, Kevin takes great pleasure in providing a spotlight for great beer in San Jose for craft beer fans and explorers alike.
Thursday Pint Nights Begin
With added taps (expect a total of 28 by this summer) along with an expanding craft beer selection, Kevin started "Pint Nights" back in March which soon turned into weekly Thursday evening events, whereby a particular brewery is featured with special pricing on their beer. There are additional touches on certain event nights, including discounted signature glassware or brewery representatives and sales distributors on hand to discuss the featured beer.
Perhaps the most memorable Thursday Pint Night occurred a month ago, when a tap takeover by Firestone Walker Brewing Co. featured six beers on tap, including the highly regarded and limited 15th Anniversary Ale. Of particular note were the beer enthusiasts from outside the greater South Bay that came to San Jose for this event.
Representing San Jose during SF Beer Week
Kevin's next big splash will take place in February during the fourth edition of SF Beer Week. He has ambitiously scheduled five events to take place at Harry's Hofbrau, marking their first time participating in SF Beer Week festivities.
Valentine's Day, Tues., Feb. 14, 2012, 6pm-closing: "Lost Love Valentine with Lost Coast" – Eureka's Lost Coast Brewery will make their whereabouts known in San Jose with 5-6 of their limited brewery offerings:
Double Trouble IPA
Alleycat Amber
Winter Brown
The rare 8-Ball Stout brewed with cocao nibs
And a special surprise offering or two
Wed., Feb. 15, 2012, 6pm-closing: "Rare Offerings from Deschutes" – From Bend, Oregon, Deschutes Brewery will be featured with an 8-10 tap takeover, including some hidden gems never before offered in San Jose:
Red Chair NWPA
The Dissident
Black Butte Porter, orange zest and chocolate
A special experimental Hop Henge
And various keg-aged beers
Fri., Feb. 17, 2012, 6pm-closing: "Sculpin Night with Ballast Point and Meet the Brewer!" – If you're a fan of San Diego's Ballast Point Brewing, then this lineup will excite you:
Five different versions of Sculpin IPA (e.g., Habanero Sculpin)
Victory at Sea
Tongue Buckler
India Pale Lager
And more surprise offerings
Plus, the scheduled attendance of one of their brewers
Sat., Feb. 18, 2012, 6pm-closing: On hand on this penultimate night will be Redding's High Water Brewing. Meet the brewer and the rest of the team while enjoying the following beers on tap:
Retribution Imperial IPA
Hop Riot IPA
Blind Spot Dark Seasonal Ale
Old and In The Way Barleywine (based on the GABF gold medal recipe)
No Boundary IPA (with Belgian yeast)
An Anniversary Ale brewed for Beer Revolution's anniversary. Perhaps a Belgian triple with hops?  Won't know until the release date a week before the event.
Sun., Feb. 19, 2012: Last but certainly not least: Anyone interested in some Pliny the Younger from Russian River Brewing Company? Harry's Hofbrau will host an IPA Night to close out the SF Beer Week celebration with draft IPAs from Stone, Firestone Walker, Deschutes, and Russian River, including Russian River's Pliny the Elder and the ever elusive Pliny the Younger. Due to what's sure to be a high demand for a limited supply of Pliny the Younger, presale tickets will be required with details to be posted on the Harry's Hofbrau Facebook page.
Looking ahead and an invitation
Kevin aims to respectfully connect with those businesses and establishments that have already been contributing to the San Jose area craft beer scene, such as Wine Affairs on The Alameda as well as the local breweries and brewpubs. He supports the idea of a beer week type of event that the San Jose and South Bay areas could call our own. "We could call it Silicon Valley Beer Week," he offers.
For now, there is the upcoming SF Beer Week and the five special events scheduled at Harry's Hofbrau. Kevin observes, "San Jose is a large city with many people who already enjoy craft beer. I know that there are many who would also enjoy craft beer if given a welcomed invitation."
The five SF Beer Week events at Harry's Hofbrau will surely be attended by craft beer enthusiasts. But these events also provide a perfect time for newer folks who want to try out some craft beer goodness. Whatever boat you are in, Kevin extends a personal invitation and will do his best in order that Harry's Hofbrau can help quench your craft beer interests and curiosity, right now and on an ongoing basis.
To keep updated on future Thursday Pint Night events at Harry's Hofbrau in San Jose, like their Facebook page. For more information on Harry's Hofbrau, click here.
[This post was shared on Examiner.com.]