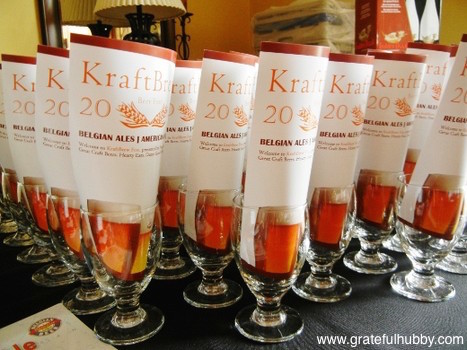 Naglee Park Garage (505 East San Carlos Street, San Jose) will host their second San Jose KraftBrew beer festival coming up on Saturday, Jan. 28, 2012, 3pm-9pm in the Landmark Ballroom at the San Jose Women's Club (75 South 11th Street).
Like their first San Jose beer festival last April, admission is free with gourmet food and craft beer available for purchase. They "will be pouring some fantastic Winter Spiced Ales, Porters and Stouts. Delicious menu to be provided by Naglee Park Garage. Come by for some excellent brews, live music, and good food."
The Facebook event page has a list of the menu items, including ale-poached smoked brat and polish dog, cocoa-braised beef stew, dark strong ale-braised pork ribs, beet and green bean salad, home fries with smoked porter ketchup, and Winter vegetable lasagna.
There is also a list of the craft beer offerings, ranging from American ales, porters, and stouts, as well as Belgian and other imports from many well regarded craft breweries. The KraftBrew Beer Fest Facebook page further provides daily updates spotlighting a particular beer and brewery.
KraftBrew Festival Driving Forces
The driving forces behind the KraftBrew festivals are Chris Esparza and Louis Silva, part owners of Naglee Park Garage and craft beer enthusiasts.
Louis, born and raised in San Jose, is also the executive chef, having worked for over 20 years in a number of restaurants and bars. Despite his hectic schedule, he took the time to answer some questions about his connection to craft beer, his take on the San Jose area craft beer scene, and the genesis of the KraftBrew Beer Fests.
When and where did your passion for craft beer start?
Always drank beer, but really started to appreciate the actual art of beer when I was a cook at Gordon Biersch. The smell of water, malt, yeast and hops was very cool. Not to mention how so many flavors, colors, smells and alcohol percentages could come out of four ingredients. Very intriguing.
Naglee Park Garage opened in late 2005. Did you start offering craft beer right away, or did the offerings evolve over the years?
When the Garage first opened, we had a mix of both standard American beer and American craft beer. But the days of Lucy are gone, and we are completely standing upright with craft beer. This year we are pushing a new beer menu, and it should be fun.
What's your take on the current craft beer scene in the San Jose area? Do you have a sense of the history of the craft beer scene in San Jose and the South Bay up to today? How has it changed over the recent years? Where do you see it going?
The craft beer scene in the San Jose is like a drag racing car, but the gas mixture is off. Get the mixture right and it's ready to go. In other words, it's here but there aren't enough establishments supporting it. I would love to see a beer renaissance happen.
Great place to get a bite and some great craft beer is Good Karma (37 South 1st Street, San Jose). We need more places like that.
How did the first Kraftbrew Beer Festival come about?
Kraftbrew was conceived from our Oktoberfests. Every year we do Oktoberfest, it gets bigger, which made us think about trying to do a beer event on a larger scale.
We felt doing a beer event where you could spend $5, $10 or $20 instead of one price would bring a broader audience. This worked exceptionally well for our first event.
Those who attended the first Kraftbrew Beer Festival last year really seemed to enjoy it. What was your take on it? What was the feedback like?
We were elated by how successful the first Kraftbrew fest was. You're always nervous when you put on an event for the first time. There are so many question marks. Sometimes you have to follow your heart and gut. Between actual execution and the positive feedback, it was a great learning experience.
Winter KraftBrew Beer Fest 2012 and Naglee Park Garage information
Event: Winter KraftBrew Beer Fest 2012
Date: Jan. 28, 2012, 3pm-9pm
Address: San Jose Women's Club Landmark Ballroom, 75 South 11th Street, San Jose, CA 95112
Admission is free – just pay to taste.
For more information on this KraftBrew event, click here.
For more information on Naglee Park Garage, including their menu and hours of operation, visit the Naglee Park Garage website.
[This post was shared on Examiner.com.]