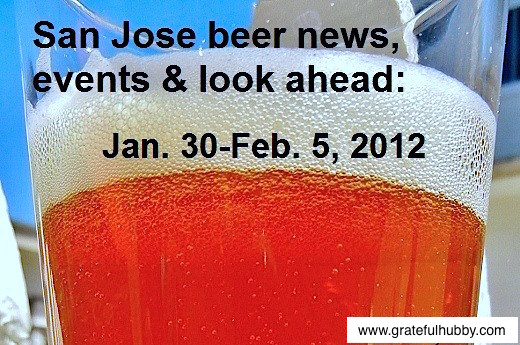 Beer News
The Winter KraftBrew Beer Fest 2012 took place yesterday (Jan. 28, 2012) at the San Jose Women's Club, and the turn out far surpassed last April's well attended inaugural KraftBrew Beer Fest.
The Strike Brewing Co. launch party held earlier this month on Sat., Jan. 14, 2012 was a "phenomenal" success. Look for their Wit (a Belgian style wheat beer) to be released on Feb. 1, 2012 and available on tap and in bottles at select locations throughout the Bay Area. The Porter will be kept as a seasonal offering for now, and look for a session IPA, as well as other seasonal beers, in the near future.
Beer Events
Mon., Jan. 30, 2012, 5:30pm-8:30pm: San Jose's Wine Affairs End of Month Beerfest. 1435 The Alameda, 408-977-0111.
Tues., Jan. 31, 2012, 6:30pm-8:00pm: Heller Bock Tapping Party at San Jose's Gordon Biersch – "This traditional German-style Pale Bock is a robustly hopped, full-bodied, unfiltered lager." 33 East San Fernando Street, 408-294-6785.
Looking Ahead
Sat., Feb. 11, 2012, starting at 2pm: SJ Beerwalk in Japantown, hosted by Jack's Bar and Lounge and Dishcrawl. "Come experience 15+ varieties of beer poured by San Jose's retailers and restaurants while strolling with friends and neighbors."
Sat., Feb. 11, 2012, 7pm-9pm: San Jose's Wine Affairs IPA Blind Tasting as part of SF Beer Week. "Time to put your tastebuds to the test. Which truly is the best IPA out there? You may think you know but perhaps the answer will surprise us all! Featuring some big name IPAs and some you've never heard of. Bring your game face, these hoppy beers aren't messing around."
Mon., Feb. 13, 2012, 6pm-8pm: San Jose's Wine Affairs South Bay Breweries Tasting as part of SF Beer Week. "Show your love for the South Bay! Beer Tasting Event highlighting only South Bay based breweries. Featuring Devil's Canyon, Tied House/Hermitage, Firehouse, Strike Brewing and more!"
Thur., Feb. 16, 2012, 6pm-9pm: South Bay Brewmaster Dinner at California Cafe Palo Alto (700 Welch Road, Palo Alto; 650-325-2233) as part of SF Beer Week. "California Cafe in Palo Alto is hosting a 5 course dinner with 5 South Bay Breweries. There will be two beers per course. Tied House, Strike, Firehouse, Campbell Brewing, and one more! We will be putting breweries head to head, tasting the difference in their brewing styles, hear the brew masters describe their beers." $55.00 per person.
Sat., Feb. 18, 2012, 1pm-5pm: 3rd Annual Meet the Brewers Festival ("Meet the South Bay and Santa Cruz Brewers 2012") in San Jose (1627 South 7th Street). Tickets available by mid-January. Presented by Tied House Brewery/Hermitage Brewing Company as part of SF Beer Week. "Our 3rd Annual Meet the Brewers Festival is here! Celebrate the best of the South Bay and Santa Cruz area with the premiere festival in our area. More breweries this year…it's gonna be hoppin! More details to come very soon."
[This post was shared on Examiner.com.]