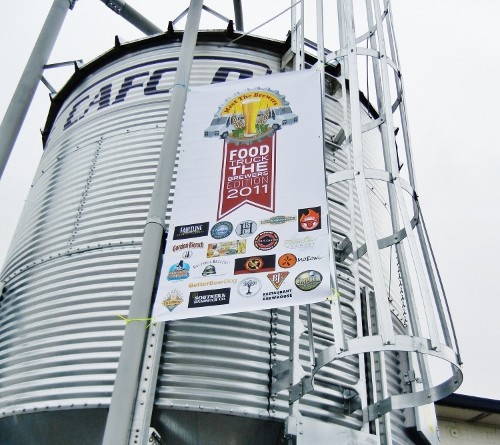 As stated in Part 1, the 3rd Annual Meet the Brewers Festival will take place on Saturday, Feb. 18, 2012, 12pm-5pm at San Jose's Hermitage Brewing Company (1627 South 7th Street). Two of the driving forces behind this year's Meet the Brewers Festival in San Jose are Carolyn Hopkins-Vasquez, Director of Marketing for Tied House Brewery and Hermitage Brewing Company, and BetterBeerBlog's Peter Estaniel.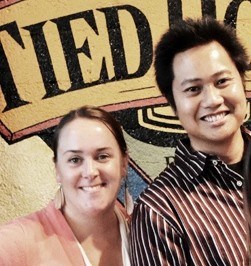 Both Carolyn and Peter are central figures in helping to support the San Jose and South Bay craft beer scene. Both recently answered some questions pertaining to their South Bay and craft beer connections, thoughts on the San Jose area craft beer scene, and ongoing efforts with the Meet the Brewer Festival. This article is Part 2 and consists of Peter's answers below. For Part 1 and Carolyn's responses, click here.
First, what are your personal and/or professional connection to San Jose and the South Bay?
While I wasn't born in San Jose, I certainly did all my growing up here. All my major life milestones happened in this city, from going to school to getting married, and now to trying to start my own business. It's all been San Jose. Plus, the majority of my family is in the area making it difficult to want to leave.
Professionally, I earned my degree at San Jose State University and worked for the 3rd largest IT company in the world for several years. That job was my first, and last, job out of college and I'm looking forward to the next phase in my life.
When and where did your passion for craft beer start?
My passion for craft beer started in my late twenties. I was a late bloomer. I initially started homebrewing because I thought it would be fun and that I could make beers cheaper at home. Well, if you're trying to replicate one of the macro industrial light lagers, it's cheaper to just buy it. BUT if you're trying to replicate some of your favorite craft beers, homebrewing is a viable option.
Sierra Nevada was my first, real introduction to craft beer. One night I found myself sitting in a bar and felt the overriding need to order a bitter beer. Sierra Nevada Pale Ale was it and I never looked back. I just kept pushing the bitterness threshold from there, and next thing you know, I'm a "hophead." Chimay Grand Reserve (blue label) was what really got me into Belgian Beers, and I was always a fan of Gordon Biersch beers as well, even before I realized they were considered "craft."
Peter, for nearly 5 years now and still going strong, you've been an observer of, participant in, and advocate for the San Jose area craft beer scene as evidenced by your BetterBeerBlog. What's your take on the current craft beer scene in the San Jose area? What's your sense of the history of the craft beer scene in San Jose and the South Bay up to today? How has it changed over the recent years? Where do you see it going?
The current craft beer scene in the greater Silicon Valley is promising. For a long while, the area had the unfortunate designation of being a craft beer desert. This was unfortunate because there are several craft breweries in the area making very good beers that have not received the credit they deserve. The area still has a long way to go but we're much further along now than we were when I first started "covering" the craft beer scene 5 years ago.
In the near future, I really see the craft beer scene here reaching a tipping point. The wave of craft beer interest has been slow to swell in the South Bay but I feel it's nearly ready to crest. The biggest indicator, for me anyway, is the surge of interest in craft beer by local businesses. It used to be the best place for me to find craft beer in San Jose was at my house, but now I can go to places like Wine Affairs, Good Karma and Harry's Hofbrau for a pint. And while BevMo remains one of the better places to find craft beer in bottles, I'm starting to see local liquor stores carry more craft brands; same can be said about specialty grocery stores like Whole Foods. I hope to add the growing list of good craft beer spots by opening my own craft beer bar this year, sometime in late summer/early fall.
The first Meet the Brewers Festival in 2010 was history making, the first of its kind in the South Bay. How did it come about, and how has it evolved up to this upcoming third Festival?
I wouldn't necessarily say Meet the Brewers was the first of its kind as there were many beer festivals that came before us that are unfortunately no longer around. But I think Meet the Brewers definitely fills a need for events like this in our area.
As I remember it, Meet the Brewers initially started with me asking Tied House (Carolyn) to see if they wanted to do a beer and food dinner. The beer and food dinner ended up morphing into some sort of event that included bacon in everything. And that event eventually turned into roasting a pig and inviting the local breweries to pour at this festival honoring this roasted pig and other roasted meats. Hence the event's original name, Meat the Brewers.
The real growth of the event can really be traced to Carolyn's efforts. It was her brilliant idea to utilize food trucks at a beer festival (we may have been one of the earliest adopters of this) as the "artisanal" nature of some of their cuisine fits right in with the craft sensibilities of our local brewers.
What's the support/feedback been like for this festival, from the brewers and the attendees?
As far as I know, the response has been fantastic. I tend to poll people as the festival goes on to see how they're enjoying themselves. Most people don't know me from squat and think I'm just a volunteer so I feel like I'm getting honest feedback. It's very Machiavellian of me to do so, I guess, but from that perspective we've been well received.
From a brewer standpoint, the festival is really an excuse for them to get together, try each other's beers, talk shop, get customer feedback about their beers and have fun. Every brewer in the South Bay knows everyone else, for the most part, but because the "South Bay" encompasses such a large area, it's difficult for brewers to get together en masse. As an unintended consequence the brewers of the South Bay, all the way through Monterey Bay, have decided to form a brewers guild that may be making their debut at Meet the Brewers this year.
Why should folks new to craft beer and/or the South Bay craft beer scene attend this festival?
I think people should attend Meet the Brewers to have a great time! It's a family friendly atmosphere and there'll be a little something for everyone. This will really be an opportunity for people to meet the men and women who make the craft beers they enjoy. You'll find the vast majority of them are affable and looking for honest feedback about the brews they produce.
Just as important, the craft beer community can't continue to grow unless the communities these breweries reside in come out and support them. It's a 2-way street: brewers like to see there are people out there who appreciate all the hard work they do and festival attendees can see there is much more variety in the South Bay than they might realize.
Beer festivals are especially great for the casual craft beer fan, or the person just getting into craft beer, to taste a wide variety of beers without committing to a whole pint of something they may or may not like. At Meet the Brewers, attendees can taste a few ounces of beer and make up their own minds if they like it or not. Because the event is unlimited tastings, attendees can always go back and get their fill of their favorite brews.
Plus gourmet food trucks will be there! I'm a big sucker for beer and food pairings. While festival attendees will have to pay for their own food, they have the ability to experiment with what beers go best with the dishes they end up getting.
Anything else to add for now?
That's it for me.
3rd Annual Meet the Brewers Festival 2012 information
For more information about this beer festival, please visit the BetterBeerBlog Meet the Brewers 2012 page.
To purchase tickets, please visit the Meet the Brewers EventBrite page.
[This post was shared on Examiner.com]