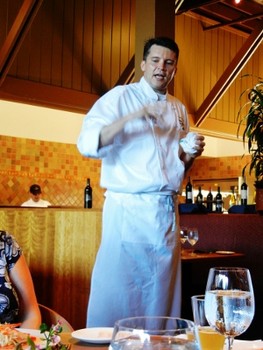 The South Bay Brewmasters Dinner at the California Cafe in Palo Alto (700 Welch Road, 650-325-2233) takes place on Thursday, Feb. 16, 2012, 6:30pm-9pm. Executive Chef Mark Pettyjohn and Soul Chef Madison Montoto have planned a menu consisting of a 5-course meal with 2 beer pairings per course. Featured breweries include Firehouse Brewery, Tied House Brewery/Hermitage Brewing, Strike Brewing Co., Los Gatos Brewing, and Palo Alto Brewing Company.
Part of the SF Beer Week series of South Bay events, this dinner costs $55.00 per person. Chef Mark and his team are not new to these brewmaster dinners, as these special events took place nearly monthly last year and proved "by far the most popular events" at California Cafe.
Despite a hectic schedule, Chef Mark recently answered some questions pertaining to his South Bay and craft beer connections, thoughts on the San Jose area craft beer scene, the history and his ongoing efforts with the brewmaster dinners, and the upcoming South Bay Brewmasters dinner.
First, taking a look back a bit, what is your personal connection to the South Bay? Did the connection actually start when you started working at California Cafe Palo Alto?
I would say my connection is with the Bay Area and all it has to offer. From a culinary aspect this is one of the best areas in the country – fresh produce, seafood, meats, cheeses, great wine, and now an up-and-coming area for craft beer.
When, where, and how did your passion for craft beer start?
In culinary school, one of our instructors was a home brewer and ran a "class" from his house. I saw it as another avenue into cooking. And when I first moved to California and the Napa Valley, I purchased a home brew kit and started brewing some decent beers. I also spent a fair amount of time at the local breweries in downtown Napa and Calistoga, the patio at the Calistoga Inn and Brewery is still a favorite of mine when I visit the Valley.
Earlier this month, California Cafe – Palo Alto shared that the "Brewmasters' Dinners were by far the most popular events in 2011…" That's quite a statement considering the myriad of wonderful events that you and your team offer at California Cafe. How did the idea for these brewmaster dinners come about, and how exciting is it to see the growth of the brewmaster dinners?
We started the dinners after I had been to a couple Brewmasters' dinners and wanted to try my hand at combining two of my passions – food and beer. The first couple dinners were a little challenging: I wanted to do the beers justice, have the pairings perfect, timing perfect and try to have our guests walk out saying, "Wow!!! I never would have thought a beer could go with that dish…" We nailed some; others were close.
My staff is just as passionate about these dinners as I am. I really get behind these events and push the staff to their limits. Behind the scenes we have had a couple of meltdowns but none that our guest were aware of, and I am so proud of how my staff handles the pressure, especially my sous chef Madison, who has been with me throughout all of the brewmasters' dinners. She will come up with some WOW items, and I'm so proud of how far she has come and knowing that her future in this career is bright.
What is particularly exciting, if anything, about beer/food pairings vs. wine/food pairings?
Now that's a good question. How can I answer this without offending the many wineries I've come to love over the years I've spent in California? Give me a huge California Old Vine Zin and well marbled New York Strip, and I'm a happy chef. Give me braised pork belly with a hoppy IPA for a starter, and I'll lick the plate clean and am just giddy. There I said it!!!
Beer is more approachable for most people, makes them feel more at ease, something they grew up with. Beer has always been a go-to drink, and with the most recent resurgence of the craft beer industry there are many more choices of outstanding brews than ever before.
Unlike wine, there is actually cooking and recipes involved with beer. You can add or subtract ingredients from a recipe at will to create your own unique style of beer, and that is what has drawn me in.
When talking with the brewmasters about their beers and hearing the pure passion behind how they do what they do and how they extract the flavors and the different flavors they pick out of their own beers is infectious. When you sit down with a brewmaster and try their beer with them and after a sip or two they say "Damn that's good" – and it's not an ego thing – it's just that good. You know there is something special going on.
Your career has been spent working at renown restaurants from the East Coast to Napa Valley, to Sonoma, to San Francisco, to Los Angeles, to Sacramento, and to the present in Palo Alto. From your perspective, what's your take on the current craft beer scene in the San Jose area? Do you have a sense of the history of the craft beer scene in San Jose and the greater South Bay up to today? How has the South Bay craft beer scene changed over the recent years? Where do you see it going?
This is an exciting time for craft beer in the South Bay. Granted there are only a handful of breweries and craft beer bars throughout the region but things are moving down here. Tied House has been bottling for a while, and you can find their beers in stores in the area. Firehouse just started bottling two of their beers and they will be distributed soon, and Strike Brewery opened about 2 months ago with four offerings in bottle also soon, if not already, in stores in the area.
It's a tight knit group of brewers. They all know each other and speak highly of one another and actually enjoy each other's beers. That's one thing I found cool was the respect given to each other.
I hear that there will be a craft beer bar opening this year somewhere in greater San Jose area, and I am so looking forward to that.
You've mostly featured breweries in your brewmaster dinner series from the South Bay, Peninsula, and the greater San Francisco areas. Do you derive special satisfaction in highlighting local breweries?
At California Cafe we try our best to feature fresh, seasonal and local when we can, so the opportunity to showcase the talents of these brewmasters is an honor for me. Seriously, I am in awe of how good these beers are. And each time we do one of these events I learn something new, taste something new, and usually end up with a new favorite beer to drink.
On a related note, this is the second year in a row that California Cafe Palo Alto is a part of the ever growing SF Beer Week, and you've chosen once again to feature South Bay breweries during a special 5-course meal paired with 2 different beers per course from 5 different breweries. What's particularly noteworthy about these South Bay breweries and their beers?
First and foremost I would like to thank Peter Estaniel from Betterbeerblog.com for coming up with the format last year and putting in so much time and effort to ensure the event went so well. He contacted a couple of brewmasters and really got the ball rolling for us last year. He also came up with the two beers per course – an idea which I so love. What a better way to showcase the South Bay Breweries: put up similar styles head to head and really taste all the South Bay has to offer? It doesn't get much better than that.
As far as choosing the breweries, no particular reason. Strike is new. Firehouse just started bottling. Tied House has a new Hop X, which is on course #3. If I could bring them all in and do a 20 course meal I would.
By featuring two beers per course the idea was to pick beers in a similar style and see how different they can be. This year we have two Imperial Stouts, some similar tasting notes but two distinctly different beers and both awesome. Also, two hopped up Ryes, one with a Belgium yeast and the other in a California IPA style. Again both big, sexy beers and not one you would expect for dessert. Just you wait for this one!!!
I am very excited about all of these beers we have on the menu for this event and I'm sure this is going to be another very fun and tasty evening.
More Information on the South Bay Brewmasters Dinner at California Cafe in Palo Alto
Visit the California Cafe website and Events page for more information. For the menu, click here. For BetterBeerBlog's recent post on this event, click here. This special dinner will likely sell out. To make reservations, call the restaurant at 650-325-2233.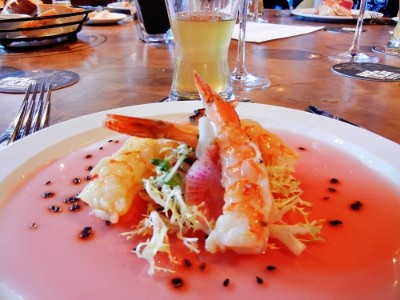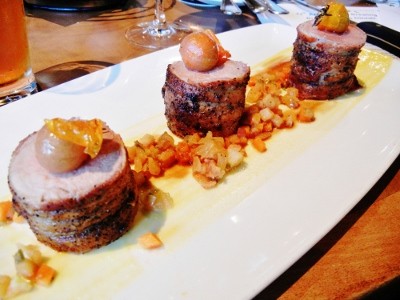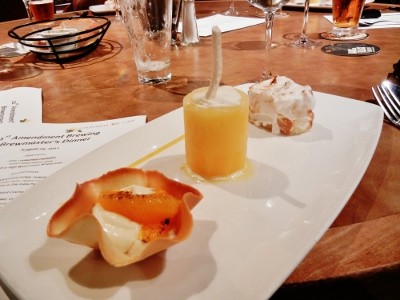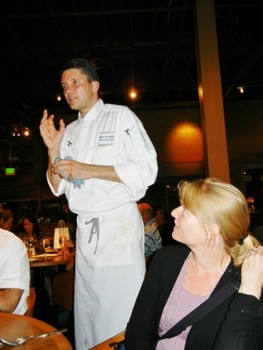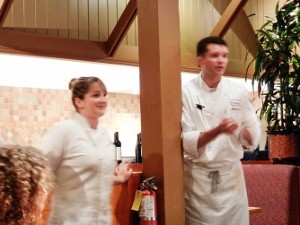 [This post was shared on Examiner.com.]