Wifey and I really like IPAs and DIPAs. Even my brother likes them now. A couple months ago, we did a tasting of some solid if not renowned examples of both.
We took short, collective tasting notes; it appears that we all are at similar, beginning points when it comes to describing beer.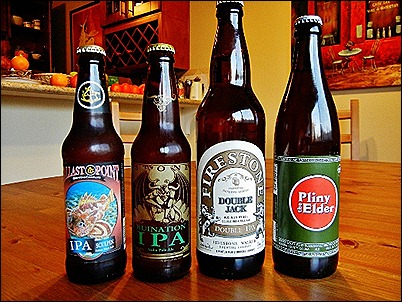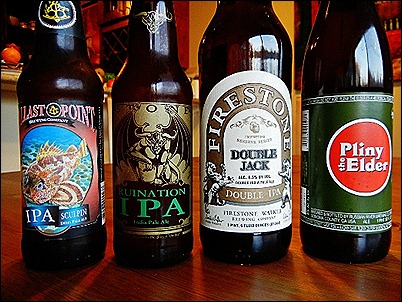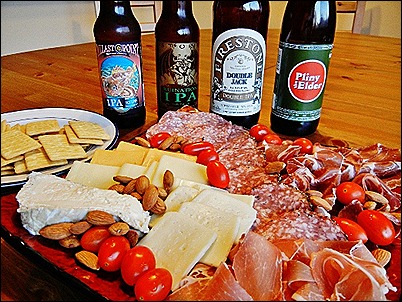 Ballast Point's Sculpin IPA (American IPA, 7% ABV):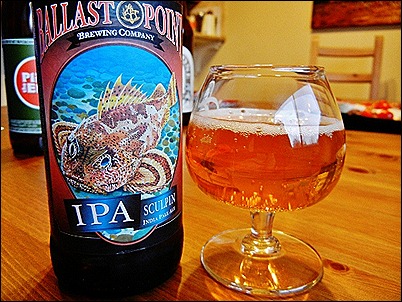 The Sculpin IPA had a clear pour with a citrus aroma. Clean, crisp, pleasant, and balanced taste. A very good, smooth mouthfeel. A very pleasant beer to have year round.
Stone Brewing's Ruination IPA (American Double/Imperial IPA, 7.7% ABV):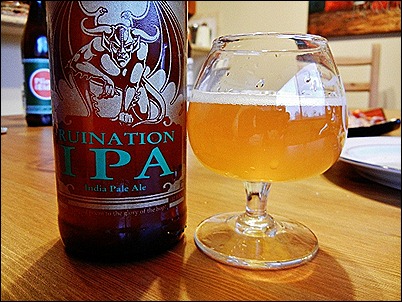 Ruination's pour was cloudy and with more head than the Sculpin. It had a milder nose than the Sculpin. After an initial sugary taste, there was a lingering bitterness.
Firestone Walker's Double Jack DIPA (American Double/Imperial IPA, 9.5% ABV).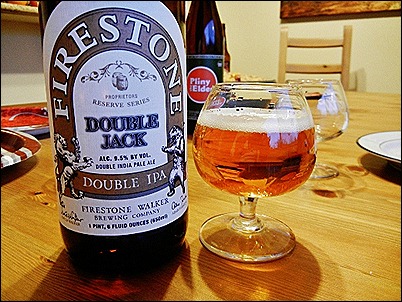 Double Jack poured clearer than Sculpin with a sweet nose of ripened citrus and maple syrup. There was a bitterness but at a lesser level than Ruination. Pleasant mouthfeel.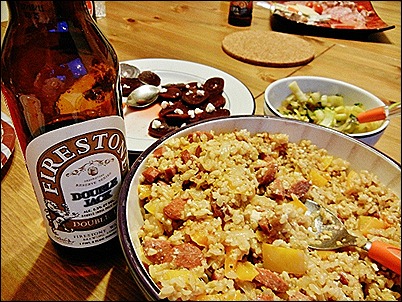 Russian River Brewing's Pliny the Elder (American Double/Imperial IPA, 8% ABV).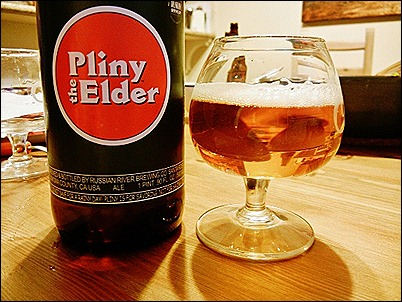 Pliny the Elder had a clear pour with a pleasant nose and a good balance of sweetness and bitterness.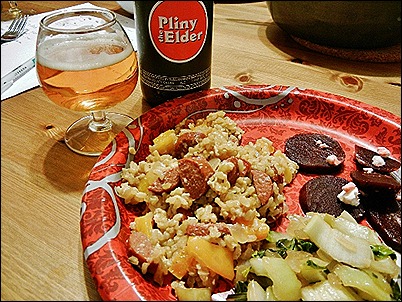 Though wifey and I enjoy all these beers, on this particular day, we all seemed to prefer Sculpin with Pliny the Elder a close second. I wonder what we would each prefer these days if we did a similar tasting.
Switching gears, I had the privilege of helping Peter of BetterBeerBlog taste and review some holiday beer also about two months ago. Besides Peter and me, there were Mrs. BetterBeerBlog and Jason, assistant brewer at Firehouse Brewery.
I began the evening tasting Peter's homemade holiday apple cider, which was delicious – hard to believe the ABV on that one. Unfortunately, I didn't take a picture of the apple cider.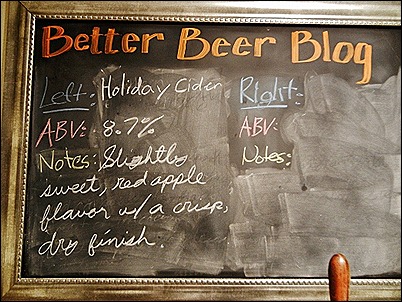 And then we got straight to the tasting and note-taking of some holiday beers.
1. 4 Calling Birds (Belgian Strong Dark Ale, 11% ABV) from The Bruery.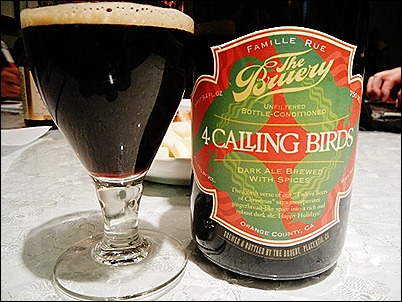 My notes: Pours dark brown with a thin tan head. Aroma of spices (anise, allspice) with eventual notes of roast and ginger. As beer warms, sweeter notes with coffee come through, and this is also the case with the taste. Slight, alcoholic heat. Very interesting and enjoyable.
2. Snowball Saison Ale (Saison/Farmhouse Ale, 8% ABV) from To Øl (Proef Brouweriz Lochristi-Hijfte).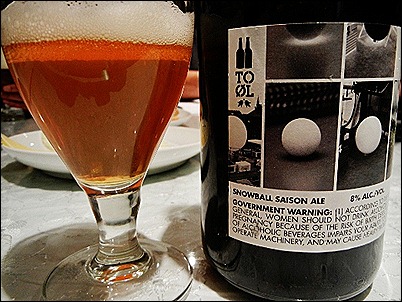 My notes: Pours a golden hue with an off-white head. Aroma of happy hoppiness – orange, grapefruit, rose petals. Taste echoes the aroma with a more pronounced floral accent. Can feel a high carbonation, yet it is balanced with a refreshing taste that can certainly be greatly enjoyed year round.
For the rest of the tasting notes on the 4 Calling Birds and the Snowball Saison Ale, please check out this BetterBeerBlog post.
3. Old Stock Ale 2011 (Old Ale, 11.9%) from North Coast Brewing Company.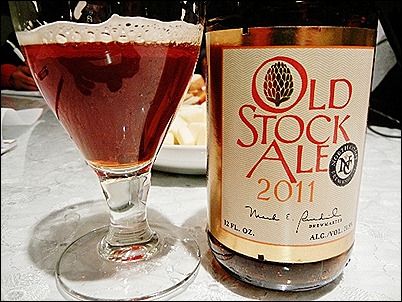 My notes: Pours amber/red with tan head. Aromas become stronger as beer warms: caramel, dates, butterscotch. Reminds me of notes of a Madeira wine. Initial alcohol taste, perhaps as expected, but pleasant. A very enjoyable, sipping beer.
4. St. Bernardus Christmas Ale (Belgian Strong Dark Ale, 10%) from Brouwerij St. Bernardus.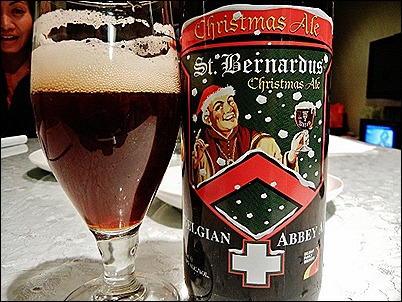 My notes: Pours amber/reddish color with an off-white head and tight bubbles. Nice lacing and long lasting head. Very pleasant, smooth, familiar Belgian ale style aroma leading to a similar taste after an initial feel of high carbonation and alcohol. Very, very nice.
For the rest of the tasting notes of the Old Stock Ale 2011 and the St. Bernardus Christmas Ale, please click on this BetterBeerBlog post.
5. Aventinus Weizen Eisbock (Eisbock, 12% ABV) from Schneider-Weisse.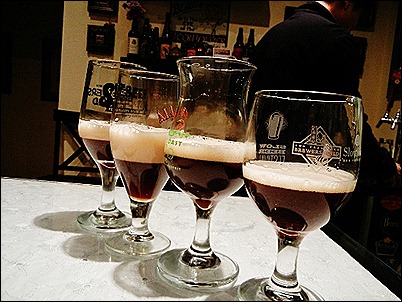 Click here for Peter's tasting notes on the Aventinus Weizen Eisbock.
Peter is the preeminent San Jose area beer blogger, having begun his BetterBeerBlog five years ago. He recently left his day job in the high-tech world to work on opening his own craft beer bar in San Jose, which I can't wait for.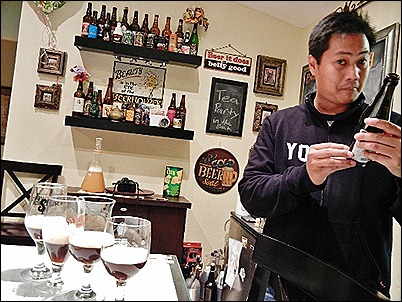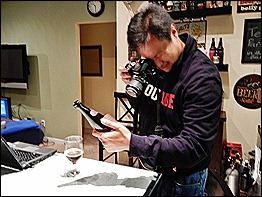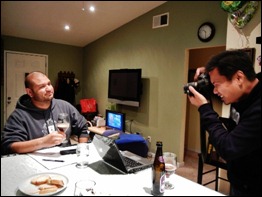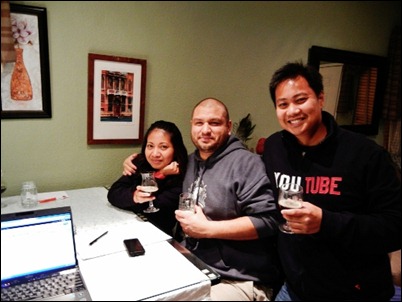 They're admiring the appearance of their beer, using a technique named after yours truly (towards the bottom of the post) – hilarious!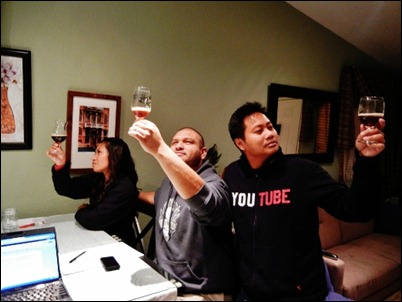 Last but not least, Peter shared a Hops on Rye (American IPA, 7.5%) from Firehouse, which got me excited.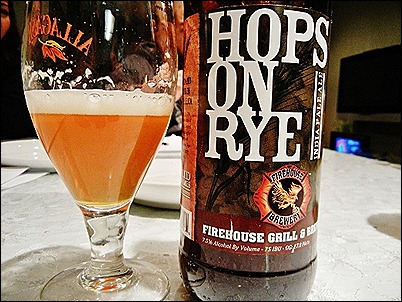 Because the Hops on Rye was tasty with a peppery/spicy note that I would soon come to thoroughly enjoy. As well, I now knew the cool brewer who assists in making this very fine beer.
Thanks, Mr. and Mrs. BetterBeerBlog for your hospitality. I really enjoyed my time hanging out and tasting beer with these folks. In addition to having just a great time, my beer knowledge increased a great deal that night.
Always Grateful,
~Andy