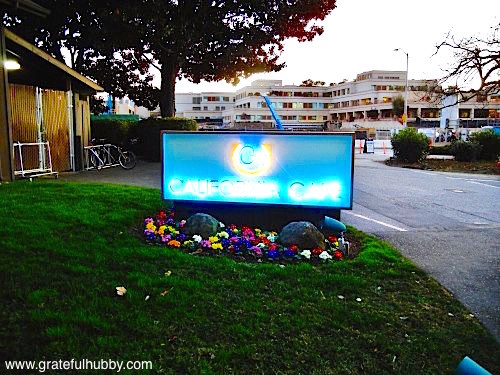 Last year, the monthly series of food and beer dinner events hosted by Palo Alto's California Cafe were their most popular events.
This year's series of food and beer dinners started off with a big bang with last month's South Bay Brewmasters Dinner featuring five breweries held on Thurs., Feb. 16, 2012 as part of SF Beer Week, where two beers were paired with each course of the five-course dinner.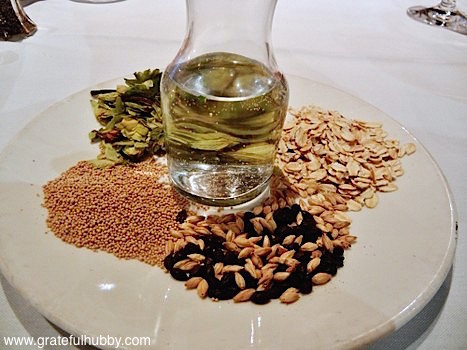 The dinner began with the head brewers of the five participating breweries taking turns introducing themselves and expounding on the beer philosophy of making good beer. They were Steve Donohue of Firehouse Grill & Brewery, Kent Wheat of Los Gatos Brewing Company, Drew Ehrlich of Strike Brewing Co., Peter Licht of Tied House/Hermitage Brewing, and Kasim Syed of Palo Alto Brewing.
The brewers were situated in four centrally located tables in the main dining area of the restaurant, providing a further treat for those diners also seated at these particular tables.
Accompanying the first course of pan seared snapper with lobster dumpling and curried lobster broth was Strike Brewing Co.'s Blonde and Los Gatos Brewing Company's Lexington Lager Czech Pilsener.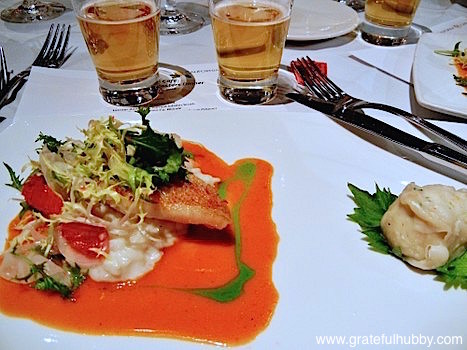 The second course, a trio of rabbit consisting of stuffed saddle, herbed loin and seared rack, and truffled gnocchi (natural jus), was paired with Strike Brewing Co.'s Brown and Los Gatos Brewing Company's El Gatoberfest.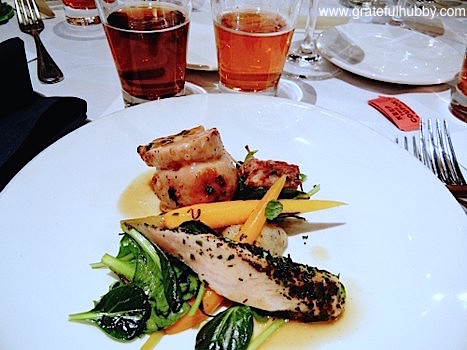 The third course, braised veal breast with parsnip puree and roasted chanterelles, was paired with Tied House/Hermitage Brewing's Hop X and Palo Alto Brewing Co.'s "Atlas" Double IPA and prompted the possibly rhetorical question for craft beer enthusiasts, "Does anything NOT go with a good hoppy beer?"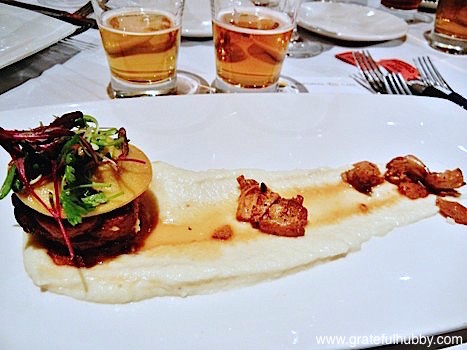 The fourth course was the favorite among many – sous vide bison with celery root-horseradish puree and braised fennel. This course was paired with Firehouse Brewery's One Tun Imperial Stout (OTIS) and Tied House/Hermitage Brewing's Ale of the 2 Tun Imperial Stout.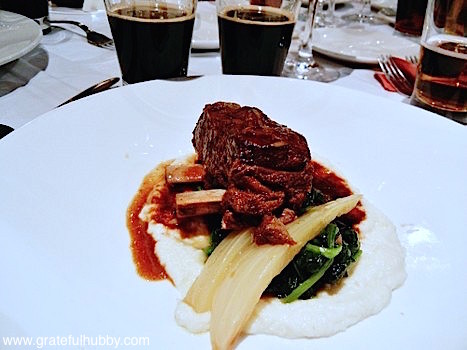 The last course of the evening was the dessert course, apricot semifreddo with guava & ginger, which was paired with Firehouse Brewery's Hops on Rye India Pale Ale and Palo Alto Brewing Co.'s Nice Lacing Rye IPA. Whereas the hoppy beers from the third course might have been expected to pair well with the savory course, a number of folks were surprised with the effectiveness of these dessert and rye beer pairings, which again begged the question, "Does anything NOT go with a good, hoppy beer?"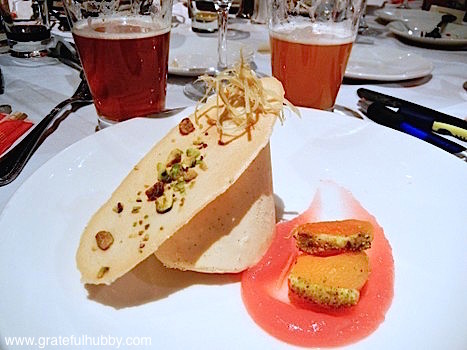 The dessert course also provided a comic relief to the evening. Many did not blink an eye when the apricot semifreddo came with chopsticks instead of spoons. Though unusual, many likely presumed that the chopsticks signified a playful end to the evening. However, diners learned to their amusement that spoons indeed were to be distributed with the dessert course and that a miscommunication caused chopsticks to be distributed instead.
No matter, for the South Bay brewmasters dinner was a successful one. The driving forces behind its success were once again Executive Chef Mark Pettyjohn and his staff (see previous article), as well as General Manager Andre' Hall and his team.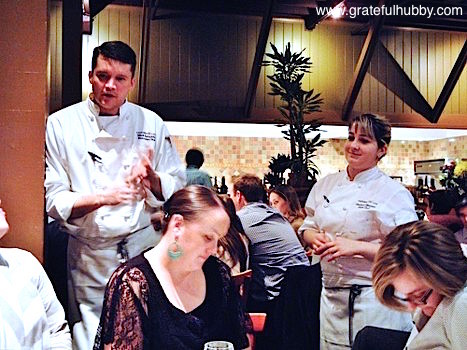 A similar event was held last year during SF Beer Week, and Chef Mark thanked Peter Estaniel from the BetterBeerBlog (for his comprehensive recap of this dinner, click here) for passing on the idea of pairing a course with two beers instead of just one. Indeed, having two beers for each course provided greater opportunities for both craft beer novices and enthusiasts alike to find their appreciation points in the respective food and beer combinations.
Chef Mark shared that there were about 35 more people at this year's event compared to last year's event, which was also successful by all accounts. A number of folks who attended this year's event have already stated that they cannot wait for next year's, which is a testament to the California Cafe staff who work diligently to provide a VIP experience for all their guests.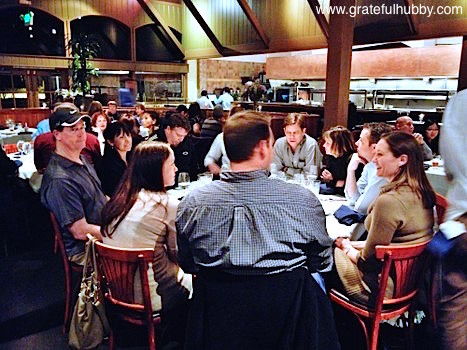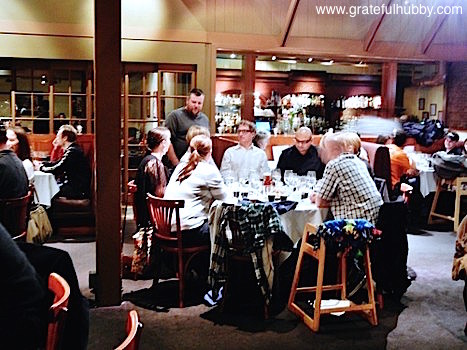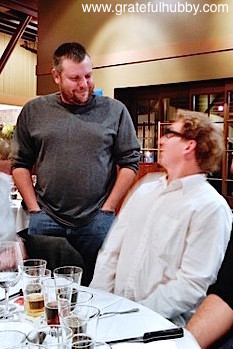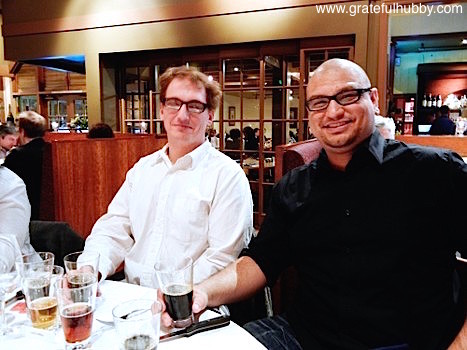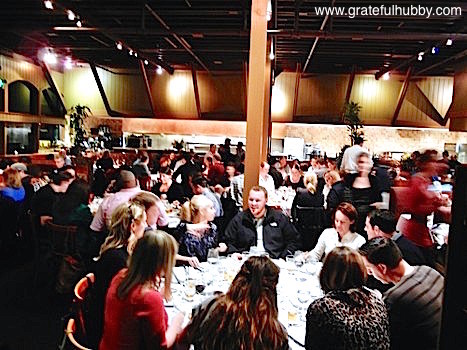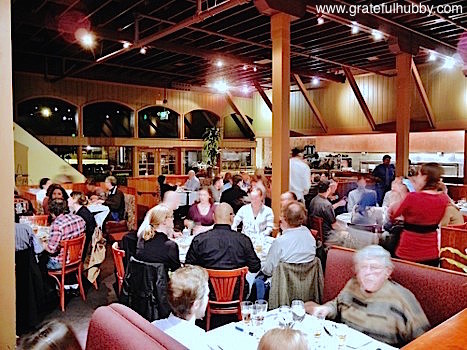 The next two brewmasters dinners at California Cafe Palo Alto have been announced: Moylan's Brewmasters Dinner on Tuesday, March 27, 2012 at 6:30 p.m. and Triple Voodoo Brewmasters Dinner on April 26, 2012. As these special dinners will undoubtedly sell out, call 650-325-2233 to make your reservations as soon as possible.
[This post was shared on Examiner.com.]