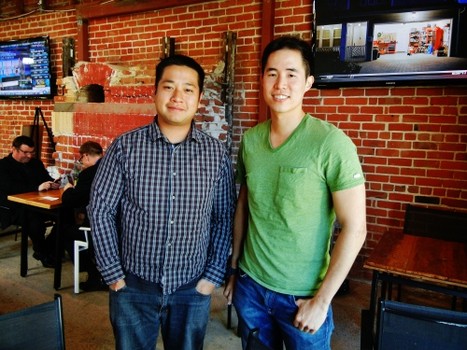 Downtown San Jose will have a craft beer bar all its own later this summer with the arrival of Original Gravity Public House at 66 South First Street, between Santa Clara and San Fernando Streets. Customers will enjoy craft beer options from 25 rotating taps alongside specialty food items, including 20 different artisan sausages, fries, and grilled cheese sandwiches, all to be enjoyed by families indoors or in an outdoor patio.
The duo behind this venture are South Bay natives Dan Phan and Johnny Wang, who met while attending UC Irvine. Going their separate ways after university, Dan worked in the biotech industry in South San Francisco for 6 years. Johnny worked in insurance and finance, and both eventually reconnected over their shared desire to leave behind the daily, corporate grind to pursue their passion – creating a business together that revolved around opening a local craft beer bar.
Both Dan, from Milpitas who attended Bellarmine College Preparatory, and Johnny, who grew up in Cupertino and attended Monta Vista High School, are proud of their South Bay roots and are happy to be able to bring a craft beer bar and restaurant to San Jose. In fact, it will be San Jose's good fortune that their initial goal to establish their beer bar in Orange County did not pan out.
Dan recently took time to answer some craft beer-related questions, his thoughts on the craft beer scene in San Jose, where he goes to drink good beer, and what guests can expect from Original Gravity.
When, where, and how did your passion for craft beer start?
I had my first craft beer at my local university pub in 2003. Our university pub was very anti-establishment and only served craft beers on tap. We had Stone, Lost Coast, and Rogue to name a few.
I was hooked and from there I learned that beer's history is as ancient as wine's and that there are more styles and flavors of beer than there are wine. Beer may be humble, but it is not simple. It is the universal beverage that has been bringing people together on common ground for thousands of years.
In the business of craft beer, the same camaraderie can be found. In an era where market competitors are usually seen as bitter rivals, such aversion is hard to find in brewing. I think it all points to the fact that being a brewer is partial to being a member of a group of people who absolutely know that what they do for a living makes a lot of people happy.
You guys are about to open up Original Gravity later this summer in the heart of downtown San Jose. Why did you select San Jose? What's your take on the current craft beer scene in the San Jose area? What's your sense of the history of the craft beer scene in San Jose and the South Bay up to today? How has it changed over the recent years? Where do you see it going?
I've always considered San Jose my home. After coming back to the Bay Area after college and living in San Francisco for a few years, it baffled me to why we didn't have any real options to enjoy a large variety of craft beers on tap in San Jose or anywhere else in the South Bay.
San Jose and the South Bay in general have long well been known as a place of innovation attracting some of the best young professionals in the high tech and social networking industries. A prime market for craft beer drinkers, but the South Bay has been considered a dead zone for craft beer over the years.
That's now going to change with places like ours opening up and the efforts of other entrepreneurs in the South Bay that you have been covering in your ongoing series of the San Jose area craft beer scene.
Not only do we have players in the hospitality business pushing for craft beer, but we have guys like Peter at BetterBeerBlog.com clamoring for better beer in the South Bay in the blogosphere, which has a strong presence in our new Web 2.0 generation.
I think in no time you'll see the South Bay have its very own variety of tap rooms and specialty bottle shops. The way the craft beer industry is growing each year nationally and with the emergence and power of social networks, the word is getting out about craft beer and it's here to stay.
What are you favorite places to get good beer?
My favorite places to grab a beer in the Bay Area would be Beer Revolution out in Oakland or City Beer up in San Francisco. I think they have the most eclectic selections when it comes to craft beers on tap as well as in the bottle. For the South Bay my two go-to spots would have to be Wine Affairs and Good Karma.
Please share how you came up with the name Original Gravity.
I've been a home brewer for a couple of years and having a background in Biochemistry, I'm partial to the science of beer. Some fellow beer geeks coined this term while enjoying some home brews. "Original Gravity" is a measurement of the liquid wort (a water mixture that is infused with malt sugars that is fermented to make beer) that is used in an equation to calculate the alcoholic beverage volume after the brewing process is complete.
Construction is now well under way. How has this whole process been like for you guys? What have been some of the highlights already?
For the both of us, it's our first foray into small business, and it has definitely been a learning process. Being a lab geek in my previous life, I was meticulous in my research on putting together a good business plan and reading as much as possible all the city and state codes and regulators we'd eventually be vetted by before being able to open the business.
It hasn't been easy navigating all the city and state departments that it takes to open a business, but it's been a great learning experience. We've gained invaluable knowledge that will help us grow our business in the future if we're to be successful.
Please share a little about what guests can expect from Original Gravity? What will be the offerings?
We plan on offering 25 rotating taps of craft beer with a wide variety of styles and pricing points that everyone can enjoy. From the novice craft beer drinker to the most hardcore beer geek, we will have something on tap for you.
In addition to the craft beer, we will be grilling and have 20 different artisan sausages for our customers. Other food offerings include duck fat fries and a variety of special grilled cheese sandwiches. All of our beers and food can be enjoyed on our dog friendly patio or sidewalk cafe on 1st Street.
Also we want to let our customers know that our menu and web page will be symbiotic. Whatever we have displayed on our menu board showing what's on tap at the bar will be able to be seen simultaneously on our web page. Since we'll constantly be rotating taps in and out at the bar, our customers will be able to know what's on tap with a simple click on their phone or web browser.
Anything else to add?
We're hoping to open this summer and you can follow our progress by visiting our web page at www.originalgravitypub.com, liking us on Facebook at www.facebook.com/originalgravitypub, or following us on Twitter at www.twitter.com/OrigGravPub.
Thanks all for your interest, and please come support us and San Jose.
[This post was shared on Examiner.com.]