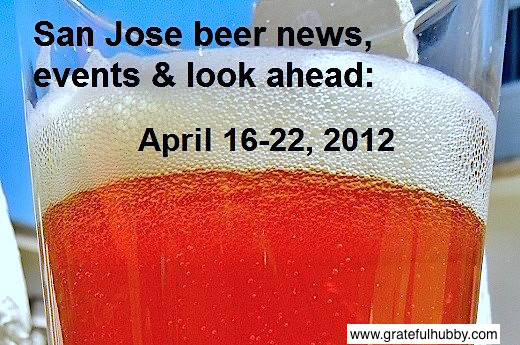 The following is a collection of recent San Jose beer news and a list of craft beer events in San Jose and the greater South Bay for the upcoming week and beyond.
Recent Beer News
Strike Brewing announced last week a distribution agreement with DBI, Inc. for Santa Clara County that commenced April 13, 2012, surely an exciting milestone for a brewing company that first released their beers in December 2011.
Congrats to Tied House/Hermitage Brewing for receiving 4 out of 5 stars for their Quadrupel in a recent issue of Celebrator Beer News Magazine.
Beer Events: The Week Ahead
Mon., April 16, 2012, 6pm-8pm: San Jose's Wine Affairs Beer Tasting: Stone's 2012 Russian Imperial Stout Release Party and Vertical Tasting. $12 per person and $5 for members. 1435 The Alameda, 408-977-0111. "Tell all your friends! We are having one of the coolest tastings… in the history of Wine Affairs. For all of you Stone Brewing fanatics out there – we will be releasing Stone's 2012 Russian Imperial Stout on the official release date! And not just that, but the great people at Stone were kind enough to release back vintages so we can offer you our very first Beer Vertical Tasting! Featuring the 2008, 2009, 2011, 2011 Belgo, and the current vintage of Stone's Russian Imperial Stout all for your drinking pleasure.  This tasting will be the usual time 6pm-8pm however will cost $12/person or $5/members. You don't want to miss out on this. We will also be offering the vertical for sale after 8pm so you can take it home and have the fun all over again! (Note: beer vintages subject to change)."
Wed., April 18, 2012, 6pm-9pm: Blues & $2 Brews: Bear Republic Brewing Co. night at Poor House Bistro. 91 South Autumn Street, 408-292-5837.
Thurs., April 19, 2012, starting at 6pm: Pint night at Harry's Hofbrau in San Jose. Check the Harry's Hofbrau Facebook page for updates. 390 Saratoga Ave., 408-243-0434.
Fri., April 20, 2012: Lagunitas Multi-Tap Event at Harry's Hofbrau in San Jose. "For all you Lagunitas fans the next time we will be doing a multi tap event will be April 20 when we will tap an extremely rare keg that Lagunitas only brews for that particular day. Only 40 bars nationwide will have this brew and every bar will tap it at the same time (4:20). Plus one of the last kegs of their phenomenal Holiday Sucks IPA."
Fri., April 13, 2012, BevMo! stores host weekly Beer Tasting events on Fridays. Check your local BevMo! store for details.
Sat., April 21, 2012, 12pm-4pm: The Bay Area Craft Beer Festival in Martinez, CA. South Bay breweries, including Strike Brewing Co., are expected to participate in this beerfest.
Looking Ahead: Save the Dates
Sat., April 28, 2012, 1pm-5pm: The second SJ Beerwalk event, hosted by Jack's Bar & Lounge, has been set for Sat., April 28, 2012 in Japantown. It will have an IPA theme.
Sat., June 9, 2012: Monterey Beer Festival. South Bay breweries, including Firehouse, Tied House, Hermitage Brewing, and Strike Brewing are expected to participate in this beerfest.
[This post was shared on Examiner.com.]