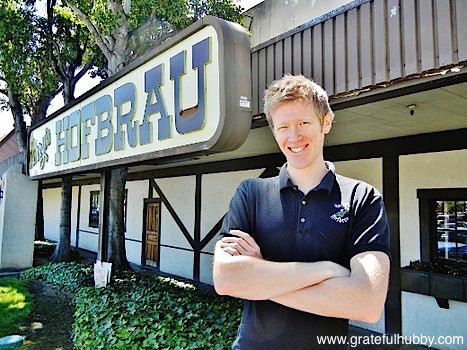 As the general manager of Harry's Hofbrau in San Jose up until his departure last month, Kevin Olcese played an important role in raising the profile of the San Jose area craft beer scene since early 2011. It was his mission to continually work on bringing in hard-to-get beer so that South Bay beer fans had more choices on where to go to get good beer.
When asked about the reasons for the ostensible growth throughout 2012 in craft beer sales in the South Bay, the brewery representatives participating in the weekly pint night events consistently pointed to Kevin's knowledge, passion, and persistence in wanting to offer better beer at Harry's. Kevin, who often worked the bar pouring drinks, deflected the insider accolades and was sure to be deferential to the folks who had already established a South Bay craft beer presence before him like Wine Affairs' Diane Chang-Laurent and the Rose & Crown's Kasim Syed.
New Beer Bar Opening Night
Since he left Harry's Hofbrau last month, Kevin has been busy working on his newest endeavor – taking the family restaurant Harry's Hofbrau in Redwood City and turning the bar into a craft beer bar with 28 taps as well as building a biergarten patio. He has scheduled a special opening night event on Thursday, Oct. 18, 2012 beginning at 6 p.m. to officially commemorate the new beer bar.
In recently catching up with Kevin, he could barely contain his excitement. "I am stoked about this opening event! Our patio is coming along nicely and the entire draft system is complete. We are doing free appetizers (more than usual), the patio will be lit, and the games will be on both screens."
Kevin was just as excited about the draft beer list for the opening night:
Pliny the Elder
Russian River Sanctification
Bourbon Barrel Angel's Share
Dogfish 120 Minute
Mikkeller Black Hole
The Bruery Autumn Maple
Ballast Point Victory at Sea 2011
Ballast Point Dorado DIPA
Alpine Brewing Super IPA Collab
Moylan's Hop Craic
Dogfish Head Bitches Brew
Lagunitas Brown Shugga
Flying Dog Single Hop Series Citra
Unibroue Terrible
Bayerischer Bahnhof Brett Lambicus Berliner
Sierra Estate Hop
Mongo
Uinta Dubhe Imperial Black IPA
Alaskan Smoked Porter
… the list goes on with Sculpin and a few other favorites
Benefit for Harry's Hofbrau in San Jose
For those that frequent the San Jose Harry's Hofbrau, Kevin was quick to point out an "awesome" tidbit about the transfer of beers that only make it to the Redwood City Harry's Hofbrau. "For example, the Dogfish event we just had at San Jose, we poured Positive Contact which wasn't distributed to the South. Just to the North. Therefore, we were the only ones in San Jose to get it… We can bring something different to the table in San Jose."
Speaking of the San Jose location, a Facebook update made yesterday listed upcoming pint nights:
Thurs., Oct. 18, 2012: Widmer Okto and 1/2L steins with discounted refills
Thurs., Oct. 25, 2012: Schneiderweiss Oktoberfest takeover with steins
Thurs., Nov. 1, 2012: TBD
Thurs., Nov. 8, 2012: Heretic Brewing's head brewer Jamil will make an appearance with multiple taps
Thurs., Nov. 15, 2012: Lagunitas takeover mason jar event
Thurs., Nov. 22, 2012: Sierra Norwhal Imperial Stout, Barrel-Aged Ovila, Estate
Harry's Hofbrau in San Jose – 390 Saratoga Avenue, 408-243-0434
Harry's Hofbrau in Redwood City – 1909 El Camino Real, 650-366-3733
[This post was shared on Examiner.com.]