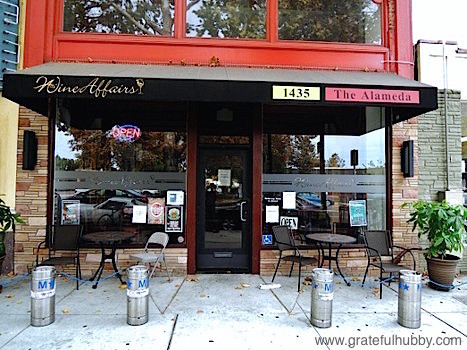 The following is a collection of craft beer news and events in San Jose and the greater South Bay for the upcoming week and beyond. As event details may change from time to time, please do check with the establishment directly, especially if you are extra excited about a particular event.
Recent beer news
Check out the recent article on a co-op brewpub in San Jose in its initial planning stages with a Q&A with one of the principle organizers.
Beer events this upcoming week
Mon., Nov. 12, 2012: San Jose's Wine Affairs hosts a Ballast Point keg tapping event. 1435 The Alameda, 408-977-0111. The following is from their recent newsletter: "We will be featuring Ballast Point beers with a special keg tapping of Indra Kunindra (stout brewed with madras curry, cayanne pepper, cumin, toasted coconut, and kaffir lime leaf). Keg tapping at 5 p.m. plus some other delicious treats from Ballast Point will be available all day on draft and in bottle."
Tues., Nov. 13, 2012, starting at 4:20 p.m.: Original Gravity Public House in downtown San Jose hosts a Lagunitas Brown Shugga' tapping event. 66 S. First St. Per their Facebook event page: "October 2012 marks the return of the feared and revered Brown Shugga after a painful year of drought! Come hang with Rudy of Lagunitas and warm your insides with this incredible beer."
Tuesday, Nov. 13, 2012, 6 p.m. – 8 p.m.: There is a tapping party featuring WinterBock at Gordon Biersch San Jose. 33 East San Fernando St., 408-294-6785. Per their recent newsletter: "WinterBock beer is a dark, full-bodied lager with overtones of caramel and toffee maltiness with a hint of holiday spirit." There will be live music and complimentary passed appetizers. Folks who bring an unwrapped toy to be donated for Toys for Tots will receive 2 complimentary WinterBock beer tickets.
Tuesday, Nov. 13, 2012, 6 p.m. – 8 p.m.: A tapping party featuring Winter Tartan Scottish Ale takes place at Rock Bottom Campbell. 1875 S. Bascom Ave. #700, 408-377-0707. Per their recent newsletter: Winter Tartan is "a traditional Scottish ale with a smooth, malty flavor and a hint of vanilla." Folks can also meet brewer Russell Clements at this tapping event.
Wed., Nov. 14, 2012, 6 p.m. – 9 p.m.: Catch live music and good beer at Poor House Bistro with "Blues & $2 Brews" featuring 21st Amendment Brewery. 91 South Autumn Street, San Jose, 408-292-5837.
Thurs., Nov. 15, 2012, starting at 6:00 p.m.: Harry's Hofbrau in San Jose hosts their weekly Pint Night. Check the Harry's Hofbrau Facebook page for updates. 390 Saratoga Ave., 408-243-0434.
Thurs., Nov. 15, 2012, starting at 6 p.m.: Jack's Bar & Lounge in Japantown offers up their weekly $2 Pint Night. Check the Jack's Bar & Lounge Facebook page for updates. 167 East Taylor St., 408-287-5225.
Fri., Nov. 16, 2012: BevMo! stores host weekly Beer Tasting events on Fridays. Check your local BevMo! store for details.
Sat., Nov. 17, 2012, 2 p.m. – 6 p.m.: The fourth SJ Beerwalk (previous SJ Beerwalks took place in Japantown and downtown Campbell) takes place in downtown Willow Glen. For details, including ticket purchasing, click here. The following is from their recent media release: "SJ Beerwalk will be bringing the same thoughtfulness in beer selection and strong emphasis on community to Willow Glen. The focus of the first Willow Glen Beerwalk will be seasonal/winter brews… 'Beerwalkers' will be invited to discover and explore twenty-five charming venues, from exclusive boutiques to unique restaurants."
Sat.-Sun., Nov. 17-18, 2012: Left Bank Brasserie Santana Row hosts a prix fixe meal paired with beers from Drake's Brewing Company as part of their Left Bank Santana Row Summer Beer Pairing Series, La Fête de la Bière. 377 Santana Row, Suite 1100, 408-984-3500.
Looking ahead: Save the date
Tues., Nov. 27, 2012, starting at 6:30 p.m.: Winter Wonderland Brewer's Dinner takes place at Rock Bottom Campbell. 1875 S. Bascom Ave. #700, 408-377-0707. Beer pairings to be announced. Call the restaurant to make reservations. For the Facebook event page, click here.
Thurs., Nov. 29, 2012: Pint Night at Santa Clara's Wicked Chicken featuring Strike Brewing Company takes place. 2565 The Alameda, 408-246-9464.
Sat., Dec. 8, 2012, 6 p.m. – 11 p.m., KraftBrew Winter Ball 2012. Seasonal beer tasting and holiday ball at the San Jose's Woman's Club – 75 S. 11th St. Per their recently posted Facebook event page: "Featuring newly released holiday ales and specialty brews, the KraftBrew Winter Ball will be a festive event in which guests are encouraged to dress in their holiday finery, dance, drink, and be merry. And now, for the first time ever, the KraftBrew WinterBall will feature a ticketed price which includes all food and beer tasting. Tickets are limited and will go on presale for $35.00 each. Light Appetizers will be provided by the Naglee Park Garage. Other highlights of the night include two live bands that will be sure to get your toes tapping and best beer purveyors from around the Bay Area. More info on bands, brews, and special menu to come, so stay tuned!"
Sun., Dec. 9, 2012, starting at 6:30 p.m.: Morocco's Restaurant in Mountain View hosts a beer dinner featuring beers from Strike Brewing Company.
[This post was shared on Examiner.com.]