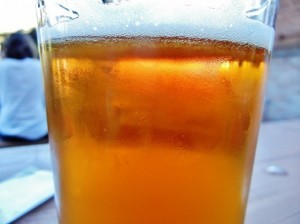 The following are some San Jose area beer events taking place from Wed., Dec. 12 to Mon. Dec. 17, including an Abyss keg tapping and a Ninkasi tap takeover.
Wednesday, 12/12/12
San Jose's Poor House Bistro hosts their weekly Blues & Brews $2 Tasting with Ron Thompson and a holiday beer tasting from 6 p.m. to 9 p.m. According to their recent newsletter, the following is the beer lineup:
Sam Adams Winter Lager draft
Sierra Celebration Ale draft
Lagunitas Brown Shugga draft
New Belguim Snow Day draft
Blue Moon Winter Abbey Ale draft
Dogfish Head Chicory Stout
Ninkasi Sleigh'r Dark Double Alt Ale
Deschutes Jubelale Winter Ale
New Belgium Frambozen Raspberry Brown Ale
21st Amendment Fireside Chat
Abita Christmas Ale
Big Sky Powder Hound
Boulder Never Summer
Rogue Santa's Private Reserve
Rogue Yellow Snow IPA
Anchor Christmas Ale
Firestone Velvet Merlin Oatmeal Stout
Alaskan Winter Ale
Full Sail Wassail
Sam Adams White Christmas Ale
Sam Adams Holiday Porter
Sam Adams Old Fezziwig Ale
Moylans White Christmas Spiced Winter Lager
Grand Teton Coming Home Holiday Ale
Lagunitas Cappucino Stout
Sam Adams Gingerbread Stout
Note the beer prices for the tasting: $2 to taste (6 oz.), $3 for a 12 oz. bottle, $6 for a 22 oz. bottle, $4 for a pint, and $15 for a pitcher.
Thursday, 12/13/12
The weekly Pint Night at Harry's Hofbrau in San Jose, starting at 6 p.m., features beers from Deschutes Brewery. In particular, the following is from their recent Facebook update: "This week's pint night we will be tapping our Abyss keg! If you didn't get to try the last keg we tapped (and missed out on the bottles), come get some! We will have a few other favorites from Deschutes as well. Next Thursday we are very excited for a Bruery tap takeover: 5 golden rings, Autumn Maple, Smoking Wood, and a few others."
For those further up the peninsula, the Harry's Hofbrau in Redwood City recently posted the following Facebook update: "Don't miss our Lagunitas steal the glass night this Thursday! Buy the beer, keep the glass with these sweet branded mason jars, and enjoy Cappucino stout, Brown Shugga', and IPA. Fun starts as always at 4:20PM."
Saturday, 12/15/12
Original Gravity Public House in downtown San Jose shares the following event information from their Facebook page:
The time has finally come! We are tapping the notorious Ninkasi holiday seasonal Sleigh'r! As if that wasn't awesome enough we have 3 other specialty releases from Ninkasi tapping that evening as well. This should be an epic night full of holiday fun and metal music. We will also have a specialty food item as we'll serving up some tasty sliders for you to wash down with these delicious brews. Don't miss this epic event and spread the word and holiday cheer!

Sleigh'r (Double Dark Alt Ale)
Double Dry Hopped Tricerahops (DIPA)
Imperiale Stout (Imperial High Gravity Stout)
Redunkulous (Dunkel Weisse)
This Original Gravity Ninkasi tap takeover event is scheduled from 5 p.m. to 11:45 p.m.
Left Bank Brasserie in Santana Row hosts a prix fixe meal paired with beers from Anchor Brewing Company as part of their La Fête de la Bière. It is their sixth beer and food pairing event.
Monday, 12/17/12
Wine Affairs in San Jose hosts their weekly beer tasting from 6 p.m. to 8 p.m. and will feature "Christmas Brews from Around the World." Per their recent newsletter: "From the fruity and spicy dark Belgian ales to the toasty, nutty English ales, we'll take you on a delicious holiday journey. 6 p.m. – 8 p.m. and only $10/person or free for members.
As events and beer lineups may sometimes change, please check with the host establishment directly if you are extra excited about a particular event and/or beer.
[This post was shared on Examiner.com.]