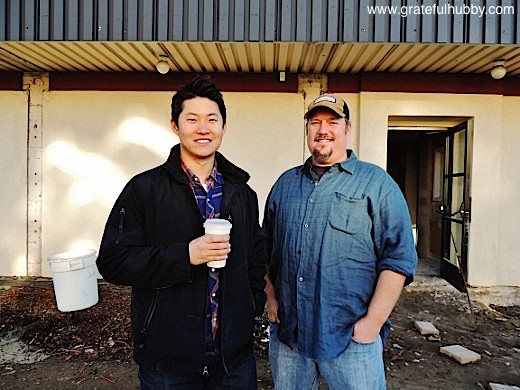 On a "hard hat" tour last month at the soon-to-open Steins Beer Garden & Restaurant in downtown Mountain View (opening date expected in late February), a construction crew was busy remodeling the property at 895 Villa Street, which had been vacant for a year-and-a-half but when finished will consist of a 300-seat, 12,000 square-foot interior and outdoor space. Owner Ted Kim, a South Bay native having grown up in Sunnyvale, and seasoned executive chef Colby Reade served as the tour guides and provided more of Steins' details.
American style beer garden and beer hall
From the outset, Ted's vision for Steins was to create a modern American version of the classic German beer garden. He had spent six months in Germany, making sure to also visit the Czech Republic and Belgium, in order to fully soak in the best of these beer cultures. He says, "The Hofbrauhaus in Munich is where I first experienced the classic, communal tables and benches. Outside in the beer garden, I tell you, sitting at a communal table, my buddy and I had the best time meeting folks from various countries, creating a memorable camaraderie over good beer – all from having to sit at the same table with other people."
"I don't want to copy exactly what's going on in Europe. We are trying to create an American style beer garden with a combination of traditional two and four top tables along with those big German-style communal tables – all to have that great social dynamic so prevalent in the beer halls and gardens throughout Europe."
Steins has worked with Marc Dimalanta (designer of Alexander's Steakhouse in Cupertino and San Francisco, among others) to create an architectural design that has Ted very happy. The modern, contemporary design style incorporates the classic, beer garden features to create a rustic, yet sophisticated, look and a feeling of warmth with the added wood, stone, and earth elements. Inside the building is a 42-foot high ceiling. "Talk about a German beer hall effect," Ted says.
Special focus on good beer
Steins will have 30 taps of high-quality craft and import beers with a good variety of styles, carefully chosen by Ted. Having 30 beers is a manageable number for the servers, Ted says. "I want them to know exactly what we're serving. I want to be able to give genuine beer recommendations, so continuing beer education will be important."
Because of the luxury of space inside, Steins will implement a direct draw draft system for the 30 draft beers instead of the alternatives of short draw or long draw systems. Ted explains that in many restaurants, the refrigerator for the beer is at the back of the restaurant, so there are long draft lines that can increase the chance of contamination. Not having any draft lines will provide the best quality beer.
There will be an "in-your-face custom-made, walk-in keg cooler" to house the beers and showcase the direct draw draft system. Ted says, "Our tap handles will be jutting out of the kegs. People will see exactly where their beer is coming from. It'll be fresh, and we will have a mechanism to control beer temperature as well."
Steins will not be serving bottled beer, at least not at the beginning. Ted says, "We want a smaller beer menu. We don't want a thousand beers. We want to have good, quality draft beer. We might bring bottled beers in later, but we have Jane's Beer Store that opened recently right down the street, so we will refer customers to Jane's if they love a particular beer on tap and want it or something similar to take home in a bottle. People ask if I'm worried about Tied House, but I love it. We'll suggest to patrons to try out Tied House's microbrews right across the street, and customers can come back here for other craft beer. We can turn this area into a beer corner and have this great synergistic energy."
Look for Steins to offer ongoing beer tasting events, inviting brewers to speak to the beer savvy as well as to those new to craft beer. Ted says, "We have a great space for special beer events, like food and beer pairing dinners. I love showing the flexibility of beer. You can pair pork rib sliders with a hoppy beer if you prefer a bitter flavor profile or a sweeter, maltier beer."
Fresh, gourmet American comfort food
Chef Colby refers to the food at Steins as gourmet American comfort food, with a farm-to-table emphasis. A large kitchen area provides the space to have all the food made in-house, including 3 or 4 breads to be made daily, charcuterie, butchery, and pickling programs like sauerkraut. "We want to make food as fresh as the beer is," says chef Colby. He also adds that producing everything in-house will make for more competitive prices on menu items, which will consist of under 25 items, including a bar food section with items like deviled eggs, house-made corn nuts, and homemade pretzels.
"We want to keep our eyes on freshness and see what's working and what's not working, keeping a focus on what customers want. Our menu will grow based on what customers want."
Ted adds, "We don't want white table cloth, and no tiny plates. We want good food that goes well with beer. We're also very aware of the Silicon Valley lunch and dinner crowds. We know who the customers will be."
South Bay pride
Community feedback and city input have played big roles. Consequently, Ted will not fully realize certain aspects that he had envisioned, like having an entertainment license. He may not quite be able to replicate the atmosphere found along Munich's famed Marienplatz during a big sporting event or during Oktoberfest, but he nonetheless feels that he has struck gold with Steins' location – a 4,000 square-foot patio outside and an 8,000 square-foot beer hall. Throw in the usual great South Bay weather, and one can easily picture the joy of sitting outside, eating and drinking merrily while making new friends.
The renovation project will cost close to $2 million (the original budget was $1.3 million), but get this: his partners are also his family and friends. "There are no millionaire investors here," he says. They all believe in Ted's vision, including the belief that "there is a community in the South Bay that is excited for this."
Ted has been wanting to open something like Steins since 2008 and actually had the chance to do so then, but he felt that the timing was not right and his beer knowledge not enough; now, they both are. He also considered locations in the San Francisco and Oakland areas that already had burgeoning places with great beer programs, but he knew that he had to go with the South Bay. "The reason I wanted it in the South Bay was because I'm a local kid. I grew up here. I really know this place."
And the South Bay beer scene will be the better for it.
Steins Beer Garden & Restaurant
895 Villa Street, Mountain View, CA
steinsbeergarden.com
[This post was shared on Examiner.com.]