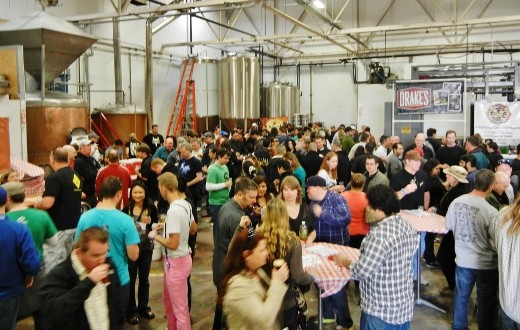 The first SF Beer Week took place in 2009 and was likely the first of its kind anywhere in the country.
Fast forward to four years later, where SF Beer Week (put together by the SF Brewers Guild and their sponsor partners) will take place from Fri., Feb. 8 to Sun., Feb. 17 and will feature a record 400+ craft beer events throughout the greater Bay Area.
As can be seen by sorting to the South Bay region on the Schedule page of the SF Beer Week website, the South Bay is well represented with a variety of options, ranging from special tastings and food-and-beer pairing events to the crown jewel of SF Beer Week events in the South Bay – the Meet the Brewers beer fest in San Jose.
In fact, there are great events taking place every day in the South Bay during SF Beer Week, and on most days, the schedule is such that one wishes for the ability to be at more than one place at the same time. Since that is not possible, I presume that many compromises will be made during Beer Week, such as deciding on how long to stay at a particular event before leaving for the next one, and so forth.
That said, for those who have not done so, take time now to review the Schedule page in order to plan accordingly.
———–
As events and beer lineups may sometimes change, please check with the host establishment directly if you are extra excited about a particular event and/or beer.
[This post was shared on Examiner.com.]