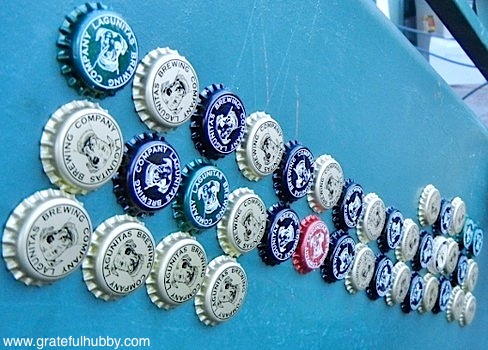 SF Beer Week 2013 officially starts today with the Opening Celebration scheduled later this evening. Lagunitas Brewing Company's Rudy Kuhn, central CA market manager and long-time San Jose resident, provides the following roundup of Lagunitas events throughout the South Bay for the week:
Monday 2/11 4:20pm – Wine Affairs: Craft Beerds Book Signing event. Tap Takeover features Dopplemyces (a super rare keg of our Doppleweizen aged with some funky brettamyces and the only of its kind in San Jose). Souvenir glassware and other limited release brews.

Tuesday 2/12 4:20pm – Original Gravity: Lagunitas on special all night featuring a triple barrel-aged keg of Ye Olde GnarlyWine (a barley wine that has been aged in rum, whiskey and wine barrels. only keg of its kind in San Jose.) Souvenir mason jars to take home too.

Wednesday 2/13 4:20pm – Good Karma: Several limited Lagunitas brews this night including Sonoma County Stout. The SoCo stout is our imperial stout barrel-aged in pinot noir barrels. One of my all time favorite brews. More souvenir glassware to take home with you.

Thursday 2/14 – it's bizness time. i'm not working. but i'll probably show up at Good Karma again to hear some awesome love jams during Covers Night. you should do the same.

Friday 2/15 – O'Flaherty's: Epic Tap Takeover at O'Flahertys. We are going to be pouring 9. Yes! NINE different Lagunitas flavors through these faucets all day long. Come kickstart your Friday night with us here.

Friday 2/15 – SmokeEaters San Jose & Cupertino: Maximus and Hop Stoopid will be featured at both locations all day long during their Double IPA Festival. Go kill your pallette with some nuclear hot sauce and bring it back to life with some hoppy beers.

Saturday 2/16 – Wicked Chicken: This promises to be the best day you'll never remember. $5 for your first beer and you get to take the mason jar home with you. Bring the 16oz mason jar back to the bar and your refill is only $3 all day long or until the beer is gone. We will be tapping all 9 of our beer week flavors at this event. If you finish a pint of all nine flavors I'll buy you your tenth round and make sure you get in a cab safe and sound.

Sunday 2/17 – Liquid Bread: Beer Cocktails. These cats take beer cocktails to a whole new level. Starting with their version of a beer-y bloody mary for brunch and several other concoctions to enjoy throughout the day.
Rudy also adds that Pizza Antica at Santana Row will feature Lagunitas draft and bottle specials all week.
[This post was shared on Examiner.com.]