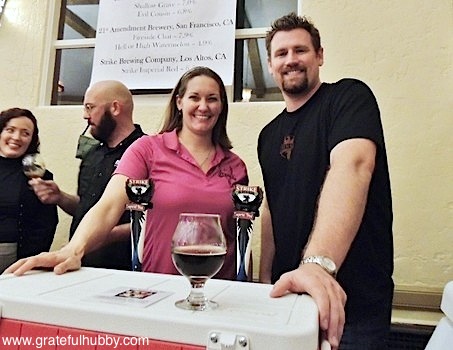 In addition to trying some beers from the South Bay's Strike Brewing Co. later this evening at the SF Beer Week opening celebration which is sold out, their website lists where else to find them throughout the week.
Friday, February 8th – SF Beer Week Opening Celebration at the Concourse Exhibition Center in San Francisco.
Saturday, February 9th 2 – 6pm – BeerWalk Japantown.  Whether you attended any Beerwalks previously, this event is a great way to kick off SF Beer Week.  Tickets can be purchased in advance for $30 at Jack's Bar & Lounge or online at www.thebeerwalk.com. In the case the event does not sell out tickets can be purchased day of for $38. Registration begins at noon (12pm). Event runs from 2 to 6pm.
Sunday, February 10th at 11am – 4th Annual SF Beer Week Beer Run. 11am run along the Los Gatos Creek Trail, starting and finishing at C.B. Hannegan's in downtown Los Gatos.  This event is free to run in and then there will be beer specials and food following the run.
Monday, February 11th – Pint Night at Buddy's Bites & Brews in Hayward.
Wednesday, February 13th 6pm – Beer Pairing at Rootstock in Los Gatos.
Saturday, February 16th 12 – 5pm – Meet the Brewers at Hermitage Brewing in San Jose.  Get tickets here.  The 4th Annual Meet the Brewers Beer Festival is back and better than ever. More breweries, the best food trucks in the Bay, and new additions to festival activities will make this a day to remember. Join us for the biggest San Francisco Beer Week event in Silicon Valley.  Stay tuned for brewery and food truck line up, plus exciting updates.
[This post was shared on Examiner.com.]