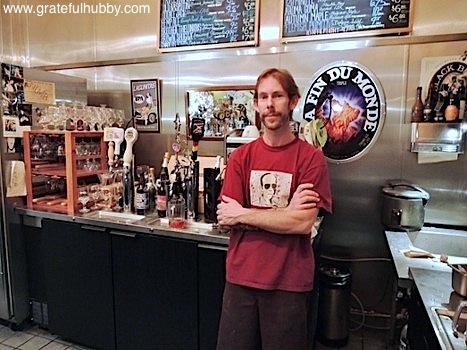 Founded by San Jose native Ryan Summers, Good Karma Vegan Cafe (37 S. First St.) is arguably the birthplace of the burgeoning craft beer wave in San Jose and for that matter, the South Bay, and they are looking to make quite the splash during SF Beer Week. Good Karma provided the following update on their website earlier today:
The Good Karma Vegan Café will be serving up daily specials and events in celebration of SF Beer Week, which runs from February 8, 2013 – February 17, 2013. Daily specials, from Monday through Friday, include a variety of artisan draft beers that have been paired with a variety of vegan specialty dishes. The restaurant is located at 37 South First Street in San Jose.
"We are excited to participate in the SF Beer Week," said Ryan Summers, of the Good Karma Vegan Café. "It's a great chance to bring together craft beer enthusiasts and meet some of the great people that make these beers possible."
The daily SF Beer week offers at the Good Karma Vegan Café include:
• Monday, February 11, 2013 – Starting at 4:20 p.m., North Coast Takeover, featuring Rasputin, Rasputin XV, Grand Cru, Old Stock Ale, Brother Thelonious and Pranqster. Guests will take part in a "steal the glass" event, and will get to hang out with Josh Charlton from North Coast.
• Tuesday, February 12, 2013 – Starting at 4:20 p.m., Knee Deep / Boulder Brewing Colab Night, featuring Shaken Bake, Rye IPA, Knee Deep Simptra, and Boulder 'Honey Saison. Come in and meet Jeremy Warren, brewer from Knee Deep, and Boulder representative Andy Rattner.
• Wednesday, February 13, 2013 – Starting at 4:20 p.m., Lagunitas Tap Takeover, featuring So Co Stout, soured on pinot barrels, as well as Sucks, Maximus, Censored, IPA, and Imperial Stout.
• Thursday, February 14, 2013 – Valentine's Day. Starting at 6:00 p.m., featuring Valentine's Sugar Crush, barrel-aged big sweeties. This will be paired with house desserts. Valentine's cover night. Not to be missed, one of the favorite nights of the year. Roll solo or bring a sweetie.
• Friday, February 15, 2013 – Starting at 6:00 p.m., Tap Takeover with Sante Adairius Rustic Ales. They will be serving up the Bay area's best-kept secret, and will be pouring aged Anais Saison, Berliner Weiss, Nona's Blend Batch 3, Appreciation, and more. Also serving a spontaneously fermented Kraut with Tim's Berliner Weiss in the second fermentation. Food specialty dishes include vegan eggplant parmesan, vegan caviar with crème fresh, vegan Ruben, and exotic mushroom ceviche.
"Those who want to taste some great beers, try something new, and eat some great vegan food will want to stop by," added Summers. "We are aiming to make this beer week like no other."
[This post was shared on Examiner.com.]