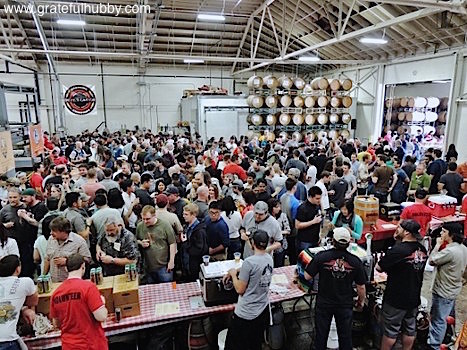 Compelling news and developments concerning the Silicon Valley craft beer landscape are making the rounds at a relatively high rate it seems.
The San Jose Co-op Brewery has been in the media spotlight lately and the Market Beer Company recently opened in San Pedro Square Market. More establishments with a beer focus are hosting noteworthy events along with new beer-centric establishments expected to open soon, or later this year.
Added to all this good news is that more media outlets are covering such news and events, providing updates for the local, beer-thirsty public.
Here's a quick look at some upcoming news and events in the South Bay beer scene:
St. Patrick's Day specials – A number of local brewpubs have been advertising their specials celebrating St. Patrick, including Faultline Brewing Company, Tied House, and FireHouse Grill & Brewery. Check out their respective Facebook pages for the details.
Grand opening of Steins Beer Garden & Restaurant – Many interested parties have been eagerly anticipating the announcement of the grand opening date for Steins Beer Garden & Restaurant. Per a recent media release, the date for the official grand opening is set for Thursday, March 28, 2013. Among the 30 beers on tap personally selected by owner Ted Kim will be: Hangar 24 Chocolate Porter, Linden Street Urban People's Common Lager, Lost Abbey Avant Garde, Kiuichi Hitachino Next White Ale, Krusovice Cerne Dark, Weihenstephaner Hefeweissbier, New Belgium Rampant, and North Coast Old Rasputin. Expect the beers to complement the offerings from executive chef Colby Reade, who has prepared a 25-item menu focused on modern American comfort food.
Opening of ISO: Beers – Excited readers have been asking about the opening date for ISO: Beers craft beer bar and tasting lounge located in downtown San Jose, especially after initial hopes for a fall opening as mentioned in a previous article. After receiving the last series of approvals from the city, expect an opening date for some time in April and an announcement soon.
Opening of Hermitage Brewing Company tasting room – Some South Bay beer fans may have heard directly from Hermitage Brewing Company about a tasting room that was to be built in time for last month's SF Beer Week at their San Jose brewing facility on 7th Street past Spartan Stadium. Unexpected circumstances delayed the opening of the tasting room, but according to Hermitage brewmaster Peter Licht, the construction and opening of the South Bay's first brewery tasting room will certainly happen.
Opening of Spread – From the folks behind Jack's Bar & Lounge in Japantown San Jose and the South Bay-based Beerwalks comes Spread bottle and small deli shop in downtown Campbell to open no later than May. Announced via social media, Charlie Mann shares, "We will have 300 – 400 different beers by the bottle and an amazing wine selection, charcuterie with great cheeses, beers on tap, incredible sandwiches at lunch with some fondues at night mixed with fresh baked bread and a neighborhood feel…"
Gordon Biersch 25th anniversary celebration – A recent Facebook event page announced the Big Bands & BBQ 25th Anniversary Bash to be held Sat., May 18, 2013 from 2 p.m. to 7 p.m. at the Gordon Biersch brewery in Japantown San Jose (357 E. Taylor St.). Admission is $10 and tickets can be purchased now.
Tied House 25th anniversary celebration – Mountain View's Tied House is celebrating their quarter-century mark as well. Look for them to share their celebration plans soon.
Opening of Blackbird Tavern – Situated at 200 S. 1st St. next to the Camera 12 Cinema in downtown San Jose, Blackbird Tavern seeks to bring good food, live music, and good drinks, including choice craft beers to downtown San Jose later this spring.
Dates for Silicon Valley Beer Week officially set – In an email last Sunday, Metro newspaper and Naglee Park Garage / KraftBrew Beer Fest jointly announced the official dates for the first annual Silicon Valley Beer Week. The kickoff to SVBW begins with a special beer event on Sunday, July 28, 2013 followed by five days of hosted events throughout the valley, closing with the Kraftbrew Summer Fest on Saturday, Aug. 3, 2013. There is a gathering of the Silicon Valley beer community, including brewers, restaurants, cafés, and other venue owners scheduled for later this month.
Santa Clara Valley Brewing Company inaugural beers – For many Bay Area beer enthusiasts, their South Bay highlights for 2013 might very well revolve around Santa Clara Valley Brewing Company and its brewmaster Steve Donohue, a four-time, consecutive medaling winner of the prestigious Great American Beer Festival. With a likeable personality, sharp wit, and his track record of well-crafted brews, Donohue has a strong support base among beer fans. Like him, they eagerly await for all the approvals and formal permission to be granted so that brewing and selling can begin.
[This post was shared on Examiner.com.]