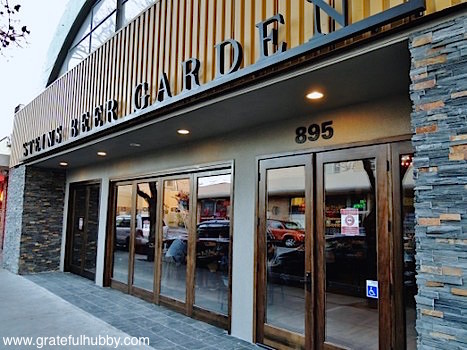 Previous articles about Steins Beer Garden & Restaurant opening in downtown Mountain View provided an introduction to owner Ted Kim and executive chef Colby Reade and an extensive preview of what craft beer fans could expect from Steins.
At long last for many in the South Bay, Steins will have its grand opening starting with lunch service on Thursday, March 28, 2013 immediately following a short, private ribbon-cutting ceremony.
On a recent visit to Steins during a rehearsal dinner, there were numerous signs to indicate that the Silicon Valley will be adding a major player to the burgeoning craft beer scene, especially with Steins' emphasis on offering fresh, quality beer through their 30 taps on a direct draw draft system and a focus on knowledgeable staff providing exemplary service to both beer enthusiasts and those new to both beer in general and the growing culinary trend of beer-and-food pairings in particular.
There are five different beer flights from which to choose – Light Flight, Dark Flight, IPA Flight, Fruit Flight, and Assorted Flight. The "Dark Flight" of beers consisted of Krusovice Cerne Dark, Dogfish Head Raison D'Etre, Band of Gypsies Collaboration Belgian Tramp, and The Lost Abbey Serpent's Stout. New Belgium Rampant, High Water Retribution, Sam Adams Grumpy Monk, and Hangar 24 DIPA made up the "IPA Flight." It was a pleasure to notice that the beer temperatures of both flights were not too cold to better showcase the aromas and flavors.
Particular favorites of several nearby tables were the Fruli Strawberry and Floris Apple Ale, both fruit beer style offerings from Brouwerij Huyghe. These particular beers were quite the challenge to procure, according to Kim.
Steins staff introduced customers to its Beer Runner program, whereby a server with a tray of beers roamed the restaurant halls from table to table to offer various beers right then and there, providing quicker tap-to-table service.
The IPA Flight overall paired well with the pork belly poutine appetizer and the breakfast for dinner entree, which was smoked pork belly with poached egg, frisée, maple dijon vinaigrette, and toast points. The classic IPA bitterness balanced the delicate richness of both dishes.
The Dark Flight paired particularly well with the seared mahi mahi and herbed lentils (the mahi mahi was a replacement for the sea bass listed on the menu) and braised lamb shoulder entrees.
For more photos from the rehearsal dinner, click here.
Of note was the recent decision to offer the aforementioned beer flights, which was a direct response to feedback from members of the local community during test runs the past few days; the beer menu proved a bit overwhelming for a number of folks new to craft beer. Look for Steins to continually work on improving the customer experience.
Steins Beer Garden & Restaurant
895 Villa Street, Mountain View, CA
Sunday – Thursday: 11:30 a.m. – 11 p.m.
Friday – Saturday: 11:30 a.m. – 11:30 p.m.
[This post was shared on Examiner.com.]