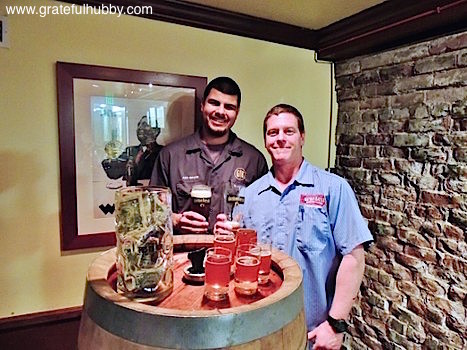 To celebrate spring, Gordon Biersch is releasing their Maibock, a traditional spring time beer, with tapping parties throughout their many locations. The tapping party at the San Jose brewery restaurant (33 East Fernando St.) is open to the public and takes place on April 2, 2013, 5 p.m. to 7 p.m.
According to a recent newsletter and press release, the Gordon Biersch Maibock is considered a traditional "Rite of Spring." Maibock is a strong Einbeck-style lager with a warming caramel malt balanced with noble Hersbrucker hops.
The Maibock tapping party also introduces a special, limited-time spring menu from April 2 through May 12 featuring new menu items: a starter, dessert, and four new entrées.
Starter: Asian Ribs (slow-cooked pork ribs with 5-spice rub and crackling ground peanuts for dipping).
Dessert: White Chocolate Mousse Lemon Cake (housemade lemon cake layered with white chocolate mousse, drizzled with lemon glaze and topped with fresh blueberries and a warm blueberry sauce).
Grilled Swordfish: Swordfish steak drizzled with lemon vinaigrette, served with quinoa kale pilaf.
Crunchy Tilapia: Tilapia coated with a smoked almond crust topped with baby arugula salad tossed in lemon vinaigrette and served with quinoa kale pilaf.
Parmesan Encrusted Chicken: Panko and parmesan encrusted chicken breast topped with tomato-basil relish served with garlic spinach.
Superfood Salad: Fresh kale with blueberries, toasted smoked almonds, Craisins and feta cheese tossed in lemon vinaigrette.
There will be passed appetizers, live music, and a charity raffle, with partial proceeds to benefit Pacific Autism Center for Education.
[This post was shared on Examiner.com.]