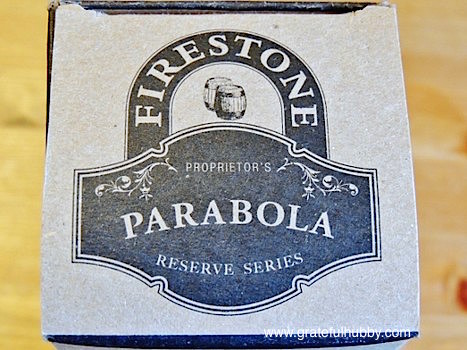 Beer fans, including those throughout Silicon Valley, will have the opportunity to get their hands on Firestone Walker Brewing Company's 2013 Parabola, which will be available starting April 15, 2013. Many folks will no doubt purchase more than one – one to drink now and one or more to age.
"This is the best Parabola we've ever made," says brewmaster Matt Brynildson in a recent press release of this year's imperial oatmeal stout vintage. But this fourth release of Parabola continued to be a challenge for the brewing team.
"It's like extracting liquid from a big oatmeal cookie… The oats turn into this thick gelatinous pain in the ass… By the time we get to lautering, we're dealing with this big cookie. It takes a lot of attention, effort and patience to get Parabola through the brewhouse… [but] the oats just lend this cool full-bodied texture and mouthfeel that I think pairs really well with imperial stout," Brynildson says. "It's worth the extra work."
The 2013 Parabola incorporates for the first time batches aged in barrels from a new source which helps differentiate it from previous years. Existing barrels "impart this deep boozy bourbon quality along with that dank, deep Kentucky cellar component. The Four Roses barrels now layer in this well refined, rich and pure oak aspect."
"But it's not all about the barrels," Brynildson says. "It's about making a well articulated imperial stout that's got enough bourbon and oak character to make it interesting. We haven't changed the recipe at all—but it has become this massive 30 Plato stout that really mellows after a year in the barrel, and that is both drinkable and ageworthy upon release."
Here are some of the specifics of this year's Parabola:
ABV: 13%
IBU: 82
Malts: Crisp Maris Otter Pale, Munich, Cara-hell, Carafa, Dark & Light Crystal, Chocolate, Oats, Roasted Barley
Hops: Zeus (bittering); Hallertau (late kettle)
Aging: Barrel aged for one year on average in retired spirits barrels
Production: 3,500 cases (22-ounce bottles)
Retail: $16.99 (22-ounce bottle)
Here are the 2013 Parabola tasting notes:
Bold espresso and dark chocolate coupled with fresh tobacco and bourbon-soaked dark fruit greet the nose. Rich port wine texture full of roasted malts, molasses and charred oak flavors flowing into barrel-driven vanilla, dark caramel and toasted marshmallow notes. A remarkably complex brew that offers a transcendental drinking experience – enjoy with good company.
[This post was shared on Examiner.com.]