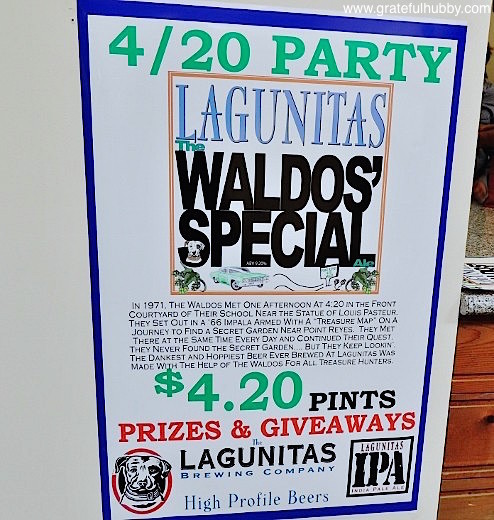 South Bay fans of Petaluma's Lagunitas Brewing Company are in for a treat, especially for those who enjoy a good Double IPA on tap.
The well-regarded Waldos' Special makes its return, and a couple of local beer spots have already made event announcements on their respective Facebook pages.
San Jose's Wine Affairs hosts a Lagunitas 4/20 Party on Sat., 4/20/13. On tap will be Lagunitas Waldos' Special ($4.20 for a 9 oz.) and Lagunitas IPA ($4.20 a pint). Keg tapping begins at 1 p.m., and there will be plenty of bottled beers as well. The Grilled Cheese Bandits food truck is scheduled from 4 p.m. to 8 p.m. and indie folk band Dream House is scheduled at 4:20 p.m.
Downtown San Jose's Original Gravity Public House presents Lagunitas 4/20 Waldos' Special Release on Sat., 4/20/13 featuring five beers from Lagunitas – Waldo, WTF, IPA, Censored/Maximus, and Fusion 16 – plus a mason jar giveaway with a purchase of Waldo. There will be other offerings, including raffle giveaways.
Look for the following places to also have special Waldo tapping parties:
Harry's Hofbrau in San Jose hosts a Lagunitas tap takeover event on Thursday, 4/18/13 as part of their weekly Thursday Pint Nights. There will be a sneak peek of Waldo for the first 42.0 customers starting at 4:20 p.m. The tap list for Lagunitas is as follows:
Waldo Special Ale (available to the first 42.0 customers that arrive)
Sonoma County Stout (limited release)
Fusion 16 (limited release)
Cappuccino Stout (seasonal)
Wilco Tango Foxtrot (seasonal)
Under-Cover Shutdown (seasonal)
Censored
Dogtown Pale
Czech Pils
Imperial Stout
A Lil Sumpin Sumpin
And IPA
A number of these locations will have raffles and prizes to help with the celebrations.
While there are a myriad of events taking place on 4/20, many South Bay beer fans will appreciate the variety of choices on where to satisfy any Lagunitas cravings.
Of note is the cluster of locations – Good Karma, Original Gravity, Market Beer Company, and O'Flaherty's – pouring Waldo in downtown San Jose; it is by design. "We are trying to make a big stink out of it this year in downtown," shares Rudy Kuhn, Lagunitas market manager for the Santa Clara County, Central Coast, and Central Valley areas. No doubt that many hop fans will savor the dank, citrusy aromas from the Waldo DIPA.
[This post was shared on Examiner.com.]