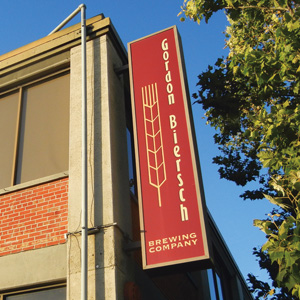 Dan Gordon and Dean Biersch founded Gordon Biersch in 1988 with the goal of making the most authentic German-style lagers outside of Germany.
Twenty-five years later, Gordon reflects, "I can't believe it, actually. When Dean and I started, we never thought 25 years. Being here, having the brewery in San Jose where I was born in an area where I had my college job working in the canneries located around it, it's so hard to believe that this actually happened."
When asked about his proudest achievement, Gordon says, "I think it's our dedication to authenticity and not compromising on how we brew our beer. … Our focal point has always been to brew authentic German-style beers and make them balanced and drinkable, and to maintain the highest levels of standards for brewing according to German purity law. It's going to be how we continue to brew our beers, and we're hoping people continue to accept that."
To celebrate its silver anniversary, Gordon Biersch will host a "Big Bands, Brews & BBQ" event this Saturday, 2-7pm, at its state-of-the-art brewing and bottling facility in San Jose's Japantown. The theme represents Gordon's two passions—jazz and, of course, making beer. Tickets are $10 and available online at gbanniversary.brownpapertickets.com or payable by cash at the door.
Two glasses or six tastes of Gordon Biersch beers as well as a commemorative glass are included. Additional glasses and tastes can be purchased, along with food designed to pair with the beers, including 18-hour Texas smoked-beef brisket, pulled-pork sliders and other fare. Gordon Biersch will also serve its trademark garlic fries.
The musical lineup features the San Jose Jazz Festival All-Star Big Band, Pacific Mambo Orchestra, and Carlos Reyes and his Super Group. The beer lineup includes the Czech Style Pilsner, SommerBrau, Marzen, Blonde Bock, Hefeweizen and the limited release Weizen Eisbock, a recent medal winner in the German-style wheat-beer category at the prestigious Great American Beer Festival. There will be guided tours of the brewery—and look for Gordon to play his trombone. Folks can watch him literally tooting his own horn (his joke, not mine).
What are Gordon's hopes for the next 25 years? "It would be nice to be around, you know. I don't plan on going anywhere. We want to be San Jose's brewery representing the amazing San Jose brand, expanding throughout the country, and hopefully exporting abroad, too. We're not going to stop."
He adds, "I hope everyone comes out on Saturday. It would be nice to have a full house of people enjoying beer, the bands and the BBQ. It's all affordable, too. … The event is for the community, to let people know what we're all about."
Gordon Biersch 25th Anniversary
Saturday, May 18; 2-7pm; $10 357 E. Taylor St., San Jose.
[This post was shared in Metro Silicon Valley.]