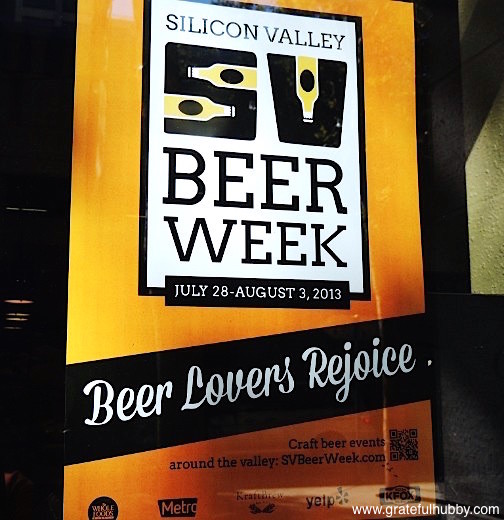 This year Silicon Valley joins the ranks of other cities and regions with designated beer week celebrations by hosting the first annual Silicon Valley Beer Week, taking place from Sunday, July 28 to Saturday, August 3. Per a recent press release:
"Silicon Valley Beer Week takes place July 28–August 3, 2013 and highlights all venues, restaurants and breweries that are passionate about craft beer.
"The week will kick off with an exclusive party on Sunday, July 28 at Gordon Biersch Brewing Company (357 E. Taylor St., San Jose), then feature five days of over 100 events throughout Silicon Valley, closing with the popular Kraftbrew Beer Fest (Post St., San Jose) on Saturday, August 3, 2013.
"Silicon Valley Beer Week is a celebration of all the vibrant brewing and culinary traditions that Silicon Valley has to offer. During the week, venues throughout the South Bay and Peninsula will host events that feature popular and hard to find craft beer selections such as tap takeovers, tasting events, food pairings, new release nights, fundraisers and other themed events.
"All events are listed on the official Silicon Valley Beer Week website and will also appear in the program guide that will be distributed in the July 24 issue of Metro Newspaper. Silicon Valley Beer Week is sponsored by Whole Food Market, Yelp, KFOX, Metro, and Giant Creative and proudly supports the Bay Brewers Guild."
The buzz has been steadily building ever since the announcement of Silicon Valley Beer Week back in March. As of this morning, there are more than 155 scheduled events, and the final tally figures to include still more events.
A number of local beer fans have been sharing their growing sense of excitement for Silicon Valley's inaugural beer week and how they have been visiting the website every few days to check out the latest additions to the list.
The events are organized on the website by Event Date, Location, and Event Type and reflect a wide range of options, sure to appeal to both beer enthusiasts and those new to the world of craft beer.
For a complete list of events, visit the website: SVBeerWeek.com.
For announcements, news, and giveaways stay connected on Facebook and Twitter:
Twitter: @svbeerweek
[This post was shared on Examiner.com.]