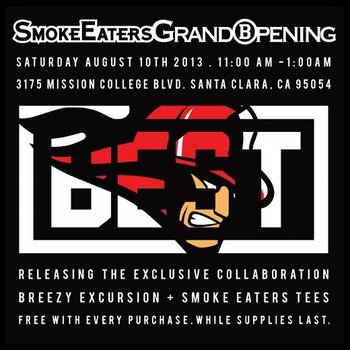 Both the SmokeEaters locations in downtown San Jose and Cupertino have been providing customers good beer since last year. And now they are joined by a new Santa Clara location at 3175 Mission College Blvd, across from the AMC Mercado movie theaters. Most of their 48 taps are devoted to craft beer.
The grand opening takes place today and starts at 11 a.m. According to a Facebook update, customers will receive special t-shirts to help commemorate the grand opening with every purchase while supplies last.
Here are more details:
We've teamed up with the best from the west Breezy Excursion for an exclusive t-shirt collaboration that we will be releasing at our new Santa Clara-Mercado location this Saturday August 10th beginning at 11am while supplies last! Shirts are limited, free with a purchase of $5 or more, so be sure to get in early to grab your tee!
Breezy Excursion is a clothing company based out of San Jose, check them out & grab some gear! BreezyExcursion.com
SmokeEaters
3175 Mission College Blvd
Santa Clara, Ca 95054
408-970-3300 ‪#‎SmokeEaters‬ ‪#‎SantaClara‬ ‪#‎HotWings‬ ‪#‎ColdBeer‬ ‪#‎GreatSports‬
[This post was shared on Examiner.com.]