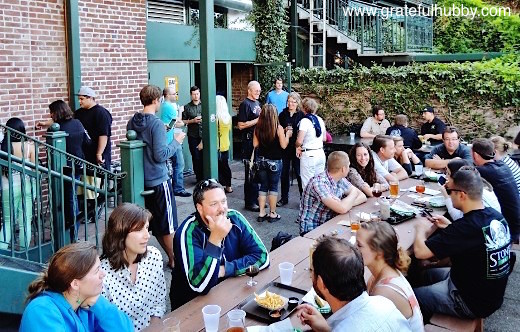 The following is a roundup of South Bay beer events taking place today and tomorrow.
THURSDAY, SEP. 5, 2013
It's Thursday pint night at Harry's Hofbrau San Jose (390 Saratoga Ave.), starting at 6 p.m. and featuring beers from Placentia's The Bruery. More from their Facebook event page:
The tap list will consist of:
Tart of Darkness – a stout (no, not Black Tuesday, this one is only 5% abv if you can believe it), but we then decided to throw it into oak barrels…and added our special blend of souring bacterias and yeasts. The result is a perfectly tart yet awesomely dark and roasty sour stout. Not a style you see too often – and in our opinion, not a style you see often enough. ABV: 5.6%.
2012 White Oak – White Oak is a blended beer– 50% wheatwine aged in Bourbon barrels (we call it "White Oak Sap"), and 50% Mischief (our Golden Strong Ale). Vivid caramel, coconut and vanilla flavors blanketed in a crisp yet robust wheat ale, White Oak is an exercise of balance. ABV: 11.5%.
Hottenroth -This tart, German-style Berliner Weisse is as authentic as it gets. We use lactobacillus and a hint of brettanomyces to sour this very unusual, low gravity wheat beer. To cut the tartness for those with sweeter tastes, raspberry or woodruff syrup is a traditional way to sweeten the beer.
Trade Winds Triple and Humulus Lager.
A Hangar 24 tap takeover takes place tonight at Original Gravity Public House in downtown San Jose (66 South First St.) starting at 6 p.m. More from their Facebook event page:
Redlands, California's finest producer of hand crafted ales and lagers are taking over 7 of our taps. Come and spend some time with a very diverse and quality list of beers.
Columbus IPA (IPA)
Essence (IPA w/ Grapefruit)
Helles Lager (Helles Lager)
Kirschen (Berliner Weisse)
Orange Wheat (Wheat Ale)
Polycot (Wheat Wine Style Ale)
Slow Roll (Barrel Aged Belgian Style Golden Ale)
Beach Hut Deli (4878 San Felipe Rd., San Jose) hosts a pint night tap takeover event featuring the South Bay's Strike Brewing Co. Per a recent Facebook update:
Tri-Tip Sandwiches on special, along with our Brown, Blonde, IPA, and Imperial Red. Come with an appetite, leave with a pint glass and some new friends!
Join Spread Deli & Bottles in downtown Campbell (193 East Campbell Ave.) for their 5:30 p.m. ribbon cutting ceremony with $2 off pints until 5:30 p.m.
FRIDAY, SEP. 6, 2013
Original Gravity serves as one of the stops along the Wet, Fresh, and Wild Tour presented by the East Bay's Calicraft Brewing Co., set to take place Friday beginning at 6 p.m. From the Facebook event page:
Featuring the freshest, wettest of hopped beers, the Wobblies is coming back to Original Gravity for a second year. Come join us as we tap a slew of other excellent liquid from one of our favorite breweries, Calicraft!
Pouring:
Wobblies (Wet Hopped IPA)
Chez Panisse (Unfiltered Farmhouse Ale)
Wild Wit (Wild Wit Ale)
Belgian Tramp (Belgian Style Quad)
More TBA!
Harry's Hofbrau Redwood City (1909 El Camino Real) hosts a Rip Current "meet the brewer" event on Friday starting at 6 p.m. Per the Facebook event page:
Rip Current is a small brewery in San Marcos making some amazing beers. We liked them so much we are driving down to pick up kegs to pour for you guys! You might know this brewery as the collaborators on the Stone coconut IPA (original recipe was one of RC's homebrews). We are really excited to have the head brewer Paul Sangster come up for a meet the brewer event as well! We will have about 5-6 Rip Current beers on for the night and Paul will be here to talk beer. Taplist looks like:
Kona Storm Coffee Imperial Porter
Bonzer Hoppy pale
Marine layer San Diego Style Heff
Lupulin IPA
Red Flag DIPA
For those not attending the aforementioned events, there are numerous other ways to enjoy a good beer in the South Bay and throughout Silicon Valley, reflecting the continuing growth of the local beer scene.
[This post was shared on Examiner.com.]