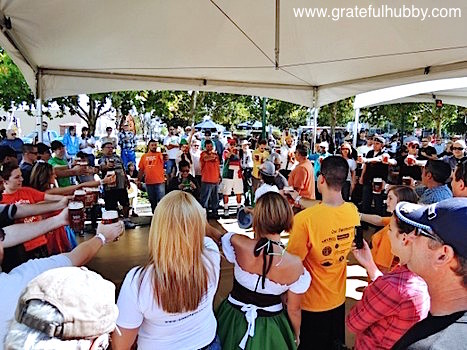 This year's Oktoberfest in Munich, Germany takes place from Sat., Sep. 21 to Sun., Oct. 6. Those unable to make it to Munich can still experience variations on the Oktoberfest theme as there are a number of Oktoberfest celebrations taking place throughout the South Bay and the Peninsula.
Many of the events will likely be crowded, but it is the community aspect that helps provide the pull to beer-related events such as these. The wonderful, warm weather – in addition to providing a perfect match for most if not all German beers – will also likely play a factor in attracting more folks to these events.
Enough small talk. On to the roundup of the upcoming, local Oktoberfest events. Most have been collected from their respective Facebook updates with more establishments sure to announce their Oktoberfest celebration plans in the coming weeks if not days.
Sat., Sep. 7, 2013
Gourmet Haus Staudt in Redwood City (2615 Broadway St.) celebrates Oktoberfest tomorrow. Their doors open at 12 p.m., and there is a $5 entry fee. Live music starts at 3 p.m. Wearing Lederhosen is encouraged as there is a contest for best dressed Bavarian.
Tues., Sep. 10, 2013
Gordon Biersch Brewery Restaurant in downtown San Jose (33 East Fernando Street) hosts their Oktoberfest Tapping Party from 5 p.m. to 7 p.m by releasing their latest seasonal Festbier, an amber lager with a slightly sweet toasted maltiness, balanced by the subtle spice of German Hersbrucker hops.
Fri., Sep. 13, 2013
Teske's Germania in downtown San Jose (255 North First St.) hosts a series of weekend Oktoberfest celebrations featuring live music starting Fri., Sep. 13 through Fri., Oct. 25. Check their events page for the dates and times.
Thurs., Sep. 19, 2013
Harry's Hofbrau in Redwood City celebrates Oktoberfest this year with a series of Oktoberfest-related Thursday pint nights. An "Oaktoberfest and Keep-the-Stein with Firestone Walker" event takes place on this evening starting at 6 p.m. More from their Facebook event page:
It's a craft Oktoberfest celebration at Harry's! Firestone Walker's Oaktoberfest is a Marzen style brew with Augustiner yeast and Hallertauer hopping. We will be serving it in 20oz ceramic mugs with Firestone branding that you get to take home with you with $1 off refills after you buy the glass! This will continue until Saturday. We will have German music playing, sausage specials, and reps on site to talk beer. Prost!
Thurs., Sep. 26, 2013
Starting at 6 p.m., "Oktoberfest Celebration with Grand Teton" is the focus of this pint night at Harry's Hofbrau Redwood City. Per their Facebook event page: Continuing our "Craftoberfest" month, it's Grand Teton's Fest Bier pint night! We will have their Fest Bier on draft as well as the 2012 Black Cauldron Imperial Stout, Pursuit of Hoppiness DIPA, and a new brew – Imperial Amber!
Thurs., Oct. 3, 2013
This week's pint night at Harry's Hofbrau Redwood City will be "Craftoberfest with Karl Strauss." The tap list will take shape shortly, but count on Karl Strauss Oktoberfest to be one of the offerings. Also, this event will be one of those buy-the-beer-and-keep-the-glass pint nights.
Sat., Oct. 5, 2013
The Peninsula Oktoberfest takes place at Hiller Aviation Museum in San Carlos (601 Skyway Rd.) from 11 a.m. to 5 p.m. Please check the Hiller Oktoberfest page for ticket information and other details, including the beer list consisting of Hofbrau Oktoberfest and Marzen, Weltenburg Dunkel, Andechs Doppelbock, Andechs hefe, Franziskaner, and Stiegl Radler, as well as offerings from Gordon Biersch, Devil's Canyon, Voodoo Brewing, and Uncommon Brewery. There is currently a Groupon deal regarding this event that expires tonight at midnight.
Mountain View's Steins Beer Garden & Restaurant, Tied House Microbrewery, and the Chamber of Commerce present the city's first Oktoberfest celebration, a two-day affair (also Sun., Oct. 6) from 10 a.m. to 6 p.m. each day and taking place in a tent-covered parking lot behind Steins Beer Garden. More from a recent newsletter and news alert:
The Beer: Tied House will be pouring its special Oktoberfest seasonal beer and various German beers will be served, including: Erdinger, Weihenstephaner, Paulaner, Hofbrau, Andechs, Weltenburger, Spaten, and Franziskaner. In addition, all 31 taps at Steins will be replaced with authentic, traditional German beers. Drink tickets will be sold at the event for those over 21, and steins will be available for purchase in half-liter and full-liter sizes.
The Food: German-themed dishes will be available such as pretzels and schnitzels from vendors, including: Teske's Germania, Esther's German Bakery, The Butcher's Daughter, and more. As well, Executive Chef Colby M. Reade will be serving up a selection of authentic German dishes at Steins Beer Garden for the entire duration of Oktoberfest – starting September 21 until October 6.
The Music: Bands playing authentic German music will be heard by guests throughout the weekend, including: Big Lou's Accordian – Saturday, 2pm; SF German Band – Sunday, 2pm; Joe Smiell Band – Sunday, 11-2pm; and the German International School of Silicon Valley.
The Kids: The family and kids-friendly weekend event will provide a number of activities for children, including: Bouncy House, Arts & Crafts Table, Pretzel Eating Contest, and more.
The Cause: The weekend will help to promote and raise money for non-profits, including: SOAR – Student Outreach Advancement Resource awards scholarships to local high school and community college students advancing to the next level of their education; and Can Do MS – Can Do Multiple Sclerosis is a leading provider of innovative lifestyle empowerment programs for people with MS and their support partners.
Sun., Oct. 6, 2013
It is the second day of the Mountain View Oktoberfest celebration. See above.
Sat.–Sun., Oct. 12–13, 2013
San Pedro Square Market in downtown San Jose recently made a Save the Date announcement via their newsletter: Celebrate October with German beer at SPSM's Marketfest on October 12th and 13th. Steins and great food promise a good time. More details to come.
Sat.–Sun., Oct. 19–20, 2013
Once again, the 19th Annual Campbell's Oktoberfest takes place in downtown Campbell. Check out the Downtown Campbell event page for more information.
[This post was shared on Examiner.com.]