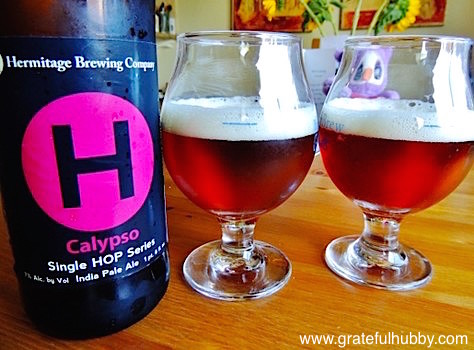 As part of their ongoing and well-regarded Single Hop Series which began in 2011, San Jose's Hermitage Brewing Company recently released Calypso Single Hop IPA (7% ABV, 70 IBUs).
Previously released single hop IPAs have included Ahtanum, Sorachi Ace, the award-winning Citra, Galaxy, Simcoe, El Dorado, and Magnum. By focusing on just one hop varietal by keeping the rest of the brewing recipe essentially the same for all their Single Hop Series offerings, distinct aroma and taste profiles arise for each hop varietal that add a unique learning component to the typical enjoyment of beer.
Based on information provided by Hermitage Brewing, Calypso hops are derived from the Nugget hop varietal and USDA 19058m. The large, square-like hops have an alpha acid content of approximately 12% – 14%, making it a useful dual-purpose bittering and aroma/flavor hop.
Calypso has been noted to have taste characteristics of lemons, tart apples, cherry blossoms, black pepper, bitter orange, mint, and pear. A very fruity quality combines with the typical piney IPA aroma.
Hermitage Brewing lead brewer Greg Filippi comments: "Calypso is another new high­-alpha variety coming to us from the Southern Hemisphere. Grower's notes have found subtle flavors of apple and pear, but we found a solid bitterness with a strong piney flavor, underscored by sweet tropical fruits like papaya or pineapple. Calypso is another excellent addition to the single­hop lineup."
Calypso is available in bottles at many local bottle shops as well as at the Hermitage Brewing Company tap room. Based on recent tastings, Calypso has proven to be a current, personal favorite among the Single Hop Series, yet more tasting sessions will be required to see if it can possibly rival the perennial, personal favorite, Citra.
[This post was shared on Examiner.com.]