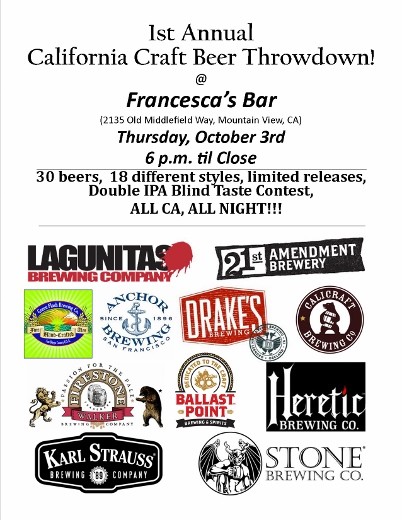 Imagine the opportunity to try up to 30 beers from among 18 different styles – including some limited releases – from Lagunitas, 21st Amendment, Green Flash, Anchor, Drake's, Calicraft, Firestone Walker, Ballast Point, Heretic, and Karl Strauss, all under one roof.
Then throw in a Double IPA Blind Taste Contest for good measure.
That is exactly what is taking place at Francesca's Sports Bar in Mountain View (2135 Old Middlefield Way) on Thursday, October 3 at 6 p.m. until close.
The event is billed as the 1st Annual California Craft Beer Throwdown and is the brainchild of Greg Sonick, a craft/specialty brand manager for DBI Beverage.
He recently shared more about this event.
The event is free to attend and $5 a pint.
To participate in the Double IPA Taste Contest, there will be a $5 Contest Sampler available for purchase.
There will be 1st, 2nd, and 3rd place awards for the Double IPA Taste Contest.
There will be brewers and brewery representatives in attendance, including Heretic's Jamil Zainasheff and Calicraft's Blaine Landberg.
There will be a firkin keg from Firestone Walker.
All attendees will receive free glassware.
All the music for the evening will have California themes.
Greg sees this event as an opportunity to not only celebrate some of the best of California craft beer but to also help support the growing demand for craft beer in Mountain View. He cites Francesca's – the oldest bar in Mountain View – as an example of the growing local beer scene, having transitioned from offering only four beers three years ago to now having over two dozen craft offerings on tap.
Expect more special events like these throughout the South Bay and Santa Clara County in the foreseeable future – good news for sure for the local beer scene.
[This post was shared on Examiner.com.]