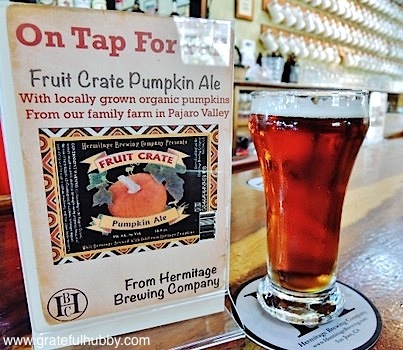 San Jose's Hermitage Brewing Company will hold a special tapping of their signature fall seasonal release – Fruit Crate Pumpkin Ale – at their Tap Room (1627 South 7th St.) this Thursday, Sep. 26 from 5 p.m. to 7 p.m.
Released for the second year in a row, this limited-edition beer is made with California-grown Heritage Pumpkins from Pajaro Valley, grown on a local farm by the same family that runs Hermitage Brewing.
Brewmaster Peter Licht shares, "This was the second year we brewed Fruit Crate Pumpkin ale. This time with even more pumpkin! We are dedicated to using the fresh, local pumpkins, so we don't want to obscure the delicate flavor with a bunch of intrusive spices. Once again we had the farm plant organic heirloom variety pumpkins extra early. This time we let them mature for a few more weeks to be really ripe and ready for brewing. Because the pumpkin flavor is subtle, we added an extra 600 pounds this time."
To ensure a natural flavor, no flavoring or spices of any kind were added. The pumpkins were roasted at the brewery and added three times during the brewing process: in the mash tun, kettle, and fermenter.
For those who enjoyed last year's Fruit Crate Pumpkin Ale, this year's version with all the extra added pumpkin should provide interesting comparison points in terms of the subtle, fresh pumpkin aromas and flavors.
Those new to this particular offering can try a pumpkin beer devoid of the flavoring and spices that are often used in pumpkin beers.
The Fruit Crate Pumpkin Ale will also be on tap at Tied House in Mountain View (954 Villa St.) and available in bottles. Expect to see the seasonal Tied House Oktoberfest available at both locations as well.
[This post was shared on Examiner.com.]