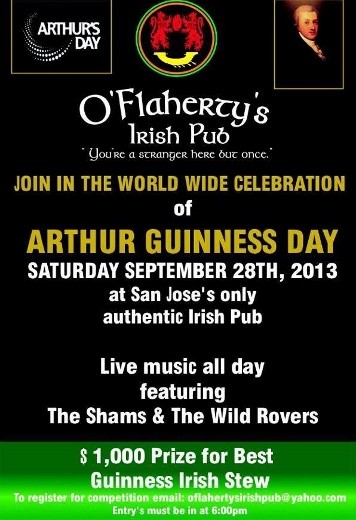 Notable South Bay craft beer establishment O'Flaherty's Irish Pub in downtown San Jose is hosting an Arthur Guinness Day celebration on Saturday, Sep. 28, 2013.
General manager David Mulvehill shares that the first such celebration was held in Ireland four years ago in honor of Sir Arthur Guinness's 250th anniversary, where bands from around the world were brought to small pubs all around the country.
David says, "The first Sir Arthur Guinness Day was a huge success in Ireland, and the tradition continued. Every year Sir Arthur Guinness is celebrated all around the country, and we wanted to bring a piece of that tradition to our little piece of Ireland in San Jose. My mother still raves about Tom Jones showing up at her local watering hole.
We will have the best Irish bands from the Bay Area playing from 4 p.m. until late. There will be etchings of people's names on the new-style Guinness glasses, plus a grand prize of $1,000 for the best Guinness Irish Stew."
Live music will feature The Shams and The Wild Rovers.
To register for the best Guinness Irish Stew competition for a shot at the $1,000 grand prize, email oflahertysirishpub@yahoo.com with your name and phone number. Bring your Guinness Irish Stew to the Pub by 6 p.m. on Saturday in a Tupperware container. Judging will begin from 6 to 8 p.m.
[This post was shared on Examiner.com.]