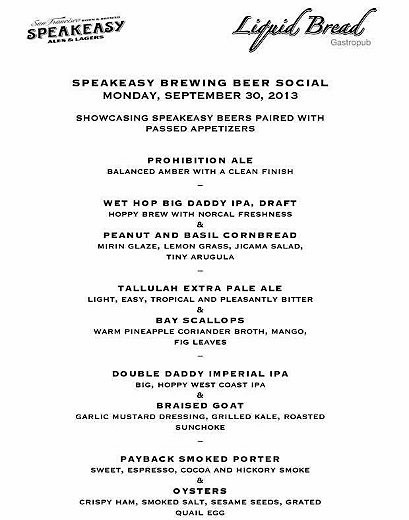 Downtown Campbell's Liquid Bread Gastropub (379 East Campbell Ave.) hosts their next beer social on Mon., Sep. 30, 2013 starting at 7 p.m.
Guests will taste five different Speakeasy beers with five different passed appetizers while having the opportunity to discuss the pairings with members from the Speakeasy brewing team as well as Liquid Bread executive chef John Burke and beverage manager Larry Hoang.
Tickets are $35 in advance or $40 at the door. Tickets can be purchased by calling (408-370-3400), in person at the restaurant, or via online.
Prohibition Ale – balanced amber with a clean finish
Wet Hop Big Daddy IPA, Draft – hoppy brew with Norcal freshness with
Peanut and Basil Cornbread – mirin glaze, lemon grass, jicama salad, tiny arugula
Tallulah Extra Pale Ale – light, easy, tropical and pleasantly bitter with
Bay Scallops – warm pineapple coriander broth, mango, fig leaves
Double Daddy Imperial IPA – big, hoppy West Coast IPA with
Braised Goat – garlic mustard dressing, grilled kale, roasted sunchoke
Payback Smoked Porter – sweet, espresso, cocoa and hickory smoke with
Oysters – crispy ham, smoked salt, sesame seeds, grated quail egg
Menu subject to change based on product availability.
[This post was shared on Examiner.com.]