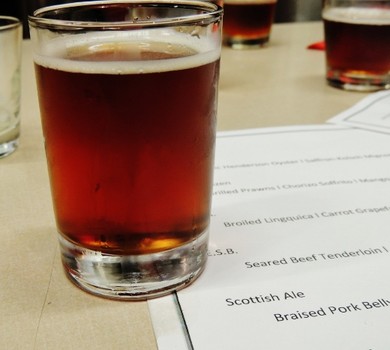 Hearty congratulations are in order for Brewmaster Jim Turturici from the South Bay's Campbell Brewing Company (200 East Campbell Ave.).
Campbell Brewing just earned a gold medal at the prestigious Great American Beer Festival this past weekend.
The winning beer? Campbell Brewing Scottish Ale in the category of Scottish-Style Ale.
From a conversation earlier today, Jim, who has been with Campbell Brewing the past five years, shared how he found out that he won, what winning means for him, more about the winning beer, and what is in store at Campbell Brewing Company.
How did you find out that you won?
First off, I usually attend GABF, so it's funny that the one year I don't attend, I win.
I was actually on my way to get a burrito, and Steve Donohue (note: currently the Brewmaster of Santa Clara Valley Brewing Company and himself a four-time, consecutive GABF medaling winner) texted me that I just won gold for my Scottish. I texted back, 'Bullsh**!' We're good friends, and we like messing with each other.
Then I got the same text from my former assistant brewer Greg Filippi (note: currently the Lead Brewer of Hermitage Brewing Company). I texted back to Greg the same thing: 'Bullsh**.'
I figured that they were both teaming up to prank me.
But then I started getting other random texts from people congratulating me, so I knew that it was not a joke.
Steve did say that even though he would mess around about a lot of things, he wouldn't be joking about a GABF medal.
What was your reaction?
Total happiness. It's an item to cross off the bucket list.
I like my beers. I like my recipes. I know what they are, and it's nice to receive confirmation from peers and colleagues. It's a rewarding feeling.
There's also a part of me that feels vindicated a little bit. It's been a challenge working here the past five years for various reasons. I've been fighting to get the Campbell Brewing Company name out, so getting recognition is nice.
But bottom line: I am stoked to win it for myself and for the brewery, but I'm also stoked for the South Bay – hopefully people can recognize that there are breweries here.
Talk more about your now GABF gold medal winner Scottish Ale.
It's a malt bomb. If you ever wanted to know what a pure malty beer tastes like, it's this one. Deep garnet color. Really smooth. Heavy caramel notes without being too sweet. No residual sugar but has a cooked sugar flavor. No hop profile at all.
If you want a malty, 6.8% ABV beer, this is it. Just a nice, heavy beautiful beer.
I still remember the pairing of this beer and the pork belly from the beer-and-food pairing event this summer. They combined perfectly.
The Scottish Ale is one of the mainstay beers at Campbell Brewing, so you'll always find it on tap here.
Campbell Brewing Company Update
Jim also shared additional information on what is going on with Campbell Brewing Company.
With the location and the connection to Sonoma Chicken Coop continuing to cause confusion among customers, look for a separation towards the beginning of next year. Says Jim, "It will be good to clear everything up so that we're simply Campbell Brewing Company. The managing team of Jerry McDougal and operations manager Dan Doherty are working to sort that out."
And still unbeknownst to many, renowned Michelin-starred Executive Chef Mike Miller, formerly of Silicon Valley Capital Club and Trevese, has been working at Campbell Brewing Company. He partnered with Jim this past summer on a stellar beer-and-food pairing tasting event and continues to refine the current menu offerings.
Jim adds, "We can now say that Campbell Brewing Company is home to a Michelin-starred chef and award-winning beers."
[This post was shared on Examiner.com.]