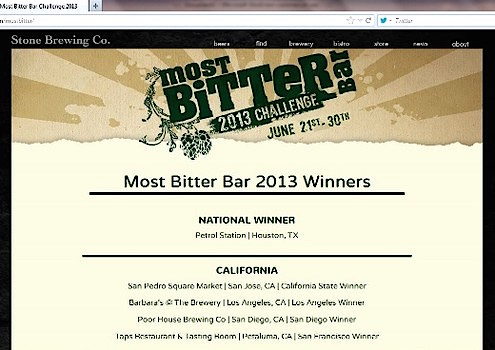 Major kudos to San Pedro Square Market for winning this year's Stone Brewing Company Most Bitter Bar challenge for California. The win is a clear and continuing representation of the South Bay's march into becoming a bona fide better beer region.
It also means that there are a lot of local Stone Brewing fans. And Stone is back with another fun challenge – the Most Arrogant Bar challenge, which began this past Friday, Nov. 15, and runs through Sun., Nov. 24. This time around, the winners among participating establishments will be the ones that sell the most amounts of Arrogant Bastard Ale, Oaked Arrogant Bastard Ale, and Double Bastard Ale – all well-regarded beers according to the prevailing beer review sites RateBeer.com and BeerAdvocate.com.
A number of South Bay beer spots are participating and have these "arrogant" brews already on tap, including Original Gravity Public House in downtown San Jose, Market Beer Company at San Pedro Square, and Harry's Hofbrau in San Jose.
Market Beer Company is hosting a special event on Wed., Nov. 20 starting at 5:30 p.m. It is a "keep the glass" night, and they will have on tap 2012 Double Bastard Ale (aged in red wine barrels), 2013 Double Bastard Ale, Arrogant Bastard Ale, and Oaked Arrogant Bastard Ale. They will have available in bottles 2011 Double Bastard Ale, Stone Enjoy By 12.13.13 IPA, and Crime, Punishment & Southern Charred.
Harry's Hofbrau San Jose will devote their Thursday Pint Night this week to pouring as much of the 2013 Double Bastard, Oaked Arrogant Bastard, and Arrogant Bastard as possible.
[This post was shared on Examiner.com.]