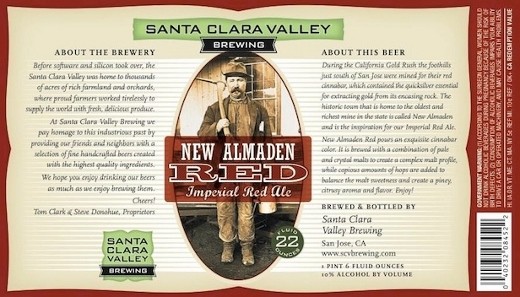 The next offering from Santa Clara Valley Brewing is upon us with the release of New Almaden Imperial Red Ale. To commemorate its debut, there is a launch party taking place at 6 p.m., Thursday, Jan. 23 at Original Gravity Public House in downtown San Jose (66 South First St.).
The beer comes in at a whopping 10% ABV, and those enjoying the imperial red will receive glassware with the Santa Clara Valley Brewing logo while supplies last. Attending this event will be the brewery team – brewmaster Steve Donohue and CEO Tom Clark. They will be available to answer any questions folks might have about the beer and their brewing company. Also on tap will be the well-regarded Electric Tower IPA, Santa Clara Valley Brewing's first ever beer.
The beer label provides the insights for those curious about the name behind this particular beer as well as the beer's flavor profile:
"During the California Gold Rush the foothills just south of San Jose were mined for their red cinnabar, which contained the quicksilver essential for extracting gold from its encasing rock. The historic town that is home to the oldest and richest mine in the state is called New Almaden and is the inspiration for our Imperial Red Ale.
"New Almaden Red pours an exquisite cinnabar color. It is brewed with a combination of pale and crystal malts to create a complex malt profile, while copious amounts of hops are added to balance the malt sweetness and create a piney, citrusy aroma and flavor. Enjoy!"
[This post was shared on Examiner.com.]