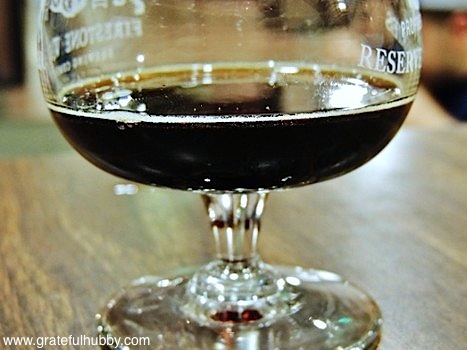 For many beer fans, "The Roots of XVII" taking place on Thursday, Feb. 13 at Harry's Hofbrau in San Jose (390 Saratoga Ave.) is a can't-miss event during SF Beer Week. The event features the highly rated Firestone Walker Brewing Company barrel-aged XVII Anniversary Ale blend, and the brewing wizard himself—Firestone Walker Brewmaster Matt Brynildson—will be in attendance.
Tastings of XVII's rare component ales will be available for purchase starting at 6 p.m. Then at 7 p.m., Brynildson will conduct a seminar—limited to 150 folks—to discuss the art of blending barrel-aged beers.
It is no coincidence that this event is taking place at Harry's Hofbrau—Harry's is both a South Bay craft beer destination and also has space to accommodate a large turnout.
Below is more information on the event:
THE ROOTS OF XVII – FEBRUARY 13
EVENT BEGINS @ 6 P.M. AT HARRY'S HOFBRAU IN SAN JOSE
SEMINAR WITH BREWMASTER MATT BRYNILDSON STARTS AT 7 p.m.
One of California's most acclaimed barrel-aged beers is set to be deconstructed as Firestone Walker Brewing Company and Harry's Hofbrau in San Jose present "The Roots of XVII," a one-of-a-kind tasting of the rare component beers that were blended to create Firestone Walker's XVII Anniversary Ale.
This SF Beer Week event will be hosted by Firestone Walker Brewmaster Matt Brynildson.
The event begins with a casual tasting at 6 p.m., followed by a seminar hosted by Brynildson, both featuring various component ales that were incorporated into the final XVII blend.
No tickets or reservations are required. Guests can simply come and purchase samples as they wish. The seminar is open to the first 150 people who queue up.
The Chops on XVII…
XVII is the eighth release in Firestone Walker's anniversary series, dating back to the release of the inaugural anniversary release called "Ten" in 2006.
Every year, local Paso Robles winemakers gather with the brewing team to taste through a variety of strong ales and determine the final blend. This year, the result was XVII, which was composed of 220 barrels spanning seven diverse components.
Says Brynildson, "The Anniversary Ale program is all about creating cohesion and complexity from an array of diverse beers. The result is a blend whose sum is greater than the parts, like solving a puzzle."
At "The Roots of XVII," the puzzle will be pulled back apart, and guests will savor these rare component pieces and learn about the art of blending. The featured component ales are:
Bravo / Aged in Bourbon and Brandy Barrels / 30% of Final Blend
– Imperial Brown Ale
Sticky Monkey / Aged in Bourbon and Whiskey Barrels / 25% of Final Blend
– English Barley Wine Brewed with Mexican Turbinado (brown) Sugar
Velvet Merkin / Aged in Bourbon Barrels / 15% of Final Blend
– Traditional Oatmeal Stout
Parabola / Aged in Bourbon Barrels / 15% of Final Blend
– Russian Imperial Oatmeal Stout
Double DBA / Aged in retired Firestone Union Barrels / 8% of Final Blend
– Double strength English Pale Ale
Helldorado / Aged in Bourbon and Brandy Barrels
– Blonde Barley Wine Brewed with Buckwheat Honey
Wookey Jack / 100% Stainless Steel
– Black Rye India Pale Ale
[This post was shared on Examiner.com.]