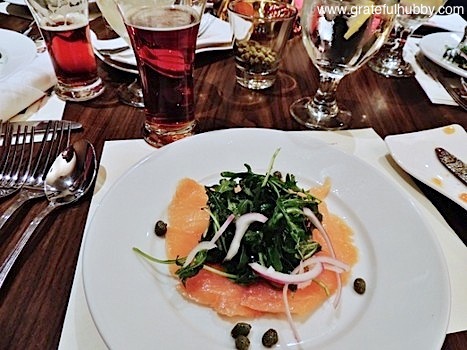 A special beer-and-food pairing brewmaster's dinner is set to take place during SF Beer Week at Scott's Seafood in Mountain View (420 Castro St.) on Tuesday, Feb. 11 at 7 p.m., featuring beers from San Jose's Hermitage Brewing Company.
It was last year—also during SF Beer Week and featuring Hermitage Brewing—that Scott's Seafood Mountain View held their inaugural beer dinner. Chef Ramon Nava and his team created well-executed dishes throughout the four courses that effectively paired with the respective, accompanying—and tasty—Hermitage beers.
It will be interesting to see how this year's brewmaster's dinner stacks up in comparison to last year's successful beer dinner.
The upcoming dinner features two of Hermitage Brewing's latest releases—Ale of the Hermit (a unique ale that "defies simple style classification") and Simcoe Single Hop IPA, along with the popular Maltopia Scotch Ale and Hoptopia Double IPA.
The cost of the dinner is $40 (not including tax and gratuity). Space is limited, and reservations are highly recommended. For more information or to make your reservation, visit www.scottsseafoodmv.com or call 650-965-8129.
The following is the menu:
First Course: Feta and Olives
Beer Pairing: Simcoe Single Hop IPA
Second Course: Smoked Salmon with Arugula, shaved Fennel and Champagne vinaigrette
Beer Pairing: Hoptopia Double IPA
Third Course: Surf n Turf: Petite Filet with one Grilled prawn, Marble potatoes, Asparagus, Herbed compound butter.
Beer Pairing: Ale of the Hermit
Fourth Course: Pannocotta
Beer Pairing: Maltopia Scotch Ale
As is the case at any true brewmaster's dinner, there will be a brewer on hand—reputable Hermitage lead brewer Greg Filippi—to introduce the beers and talk to attendees and answer any questions about the brewery and their offerings.
What: Brewmaster dinner at Scott's Seafood Mountain View featuring Hermitage Brewing Company
When: Tues., Feb. 11, 2014 starting at 7 p.m.
RSVP: Visit www.scottseafoodmv.com or call 650-965-8129.
About Scott's Seafood Mountain View: Scott's Seafood Mountain View is a Bay Area tradition in the heart of downtown Mountain View. Scott's offers American regional cuisine features the freshest seafood, pasta, chicken dishes and USDA prime, dry aged steaks. In 2013, Scott's Seafood Mountain View was awarded best seafood restaurant in Mountain View by The Mountain View Voice.
About Hermitage Brewing Company: Hermitage Brewery is becoming widely recognized for its Hoptopia, Maltopia, Ale of the Imp, Single Hop "H" Series IPAs, and craft soda brands. In 2011, Hermitage took four Gold Medals at the California State Commercial Craft Brewers Competition. Celebrator Beer News awarded One Door Quadrupel with four out of five stars in 2011, and Hoptopia DIPA four out of five stars in 2012.
[This post was shared on Examiner.com.]