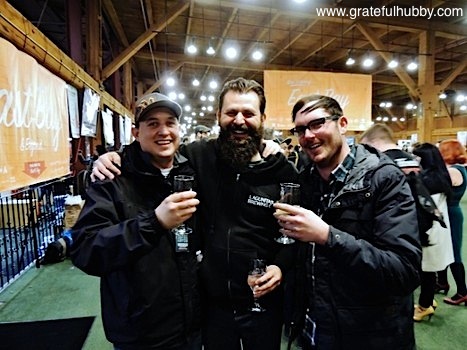 Offerings from Lagunitas Brewing Company can be found at a myriad of locations throughout the South Bay and beyond. But during SF Beer Week, Good Karma Vegan Cafe in downtown San Jose (37 South First Street) will be the hot spot for an epic Lagunitas event entitled "Get High-Westified & SF Fusion 20 Release Party."
The event title is in reference to Lagunitas Cappuccino Stout (2012) aged in bourbon barrels from High West Distillery and the special SF Beer Week edition of the Lagunitas Fusion Series (made in part by some of the Good Karma crew). The event takes place on Tuesday, Feb. 11 from 6 p.m. – 10 p.m.
South Bay native and long-time San Jose resident Rudy Kuhn is the Central California Market Manager for Lagunitas and shares the following:
Good Karma is definitely the biggest SFBW event. The tap list is gonna rival the Lagunitas Tap Room. Ryan [Good Karma owner and beer aficionado Ryan Summers] has been cellaring a bunch of these flavors in anticipation for this event. It'll be a true showcase of the dank and dark sides of Lagunitas… some of our happiest offerings and some of the few darker and barrel-aged beers we've made over the past few years. We'll get funky with some vinyl spinning, too.
The beer lineup includes cellared kegs of 2013 SoCo Sour Stout, 2012 Brown Shugga, and 2013 Hairy Eyeball along with fresh Maximus Double IPA, Sucks, and IPA. Folks can also keep the glassware while supplies last.
A different kind of event takes place on Friday, Feb. 14, 7 p.m. at downtown San Jose's Café Stritch. Rudy shares:
Taking place at Café Stritch is the spawn of our Beer Circus. We're bringing some of those freaks down to San Jose for a pre-party and to show the locals a good time. We'll have two of our recent Fusion beers and party down until The Bang start to jam away the night on the stage.
Rudy is just as happy in discussing the other exciting beer events coming up throughout the South Bay, like the Sweet and Sour Festival also taking place on Friday, Feb. 14 at Good Karma and Original Gravity Public House. Rudy adds, "You can pucker up with some sours at OG and then get some sweet barrel-aged brews across the street at Good Karma." The Original Gravity event, "Pucker Up! Valentine's Day Sour Fest 3.0," takes place from 4 p.m. – 11:30 p.m. while the Good Karma event, "St. Valentine's Barrel-Aged Sweeties," takes place from 6 p.m. – 10 p.m.
Be sure to say hi to Rudy, an exemplary representative of the local beer scene – he'll be the guy with the big smile, big beard, and the big bundle of positive energy flowing around him.
[This post was shared on Examiner.com.]