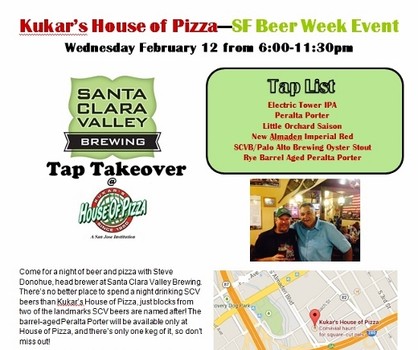 Kukar's House of Pizza (527 South Almaden Blvd.), the downtown San Jose pizza restaurant that has been in business for 63 years—and counting—hosts a Santa Clara Valley Brewing Company tap takeover event on Wednesday, Feb. 12 starting at 6 p.m to 11:30 p.m.
There beer lineup consists of the following:
A one-off 8-gallon Woodinville Rye whiskey barrel-aged Peralta Porter
This tap takeover event marks the first time that House of Pizza is participating in SF Beer Week.The event will also provide a meet-and-greet opportunity as Santa Clara Valley Brewing founders CEO Tom Clark and Brewmaster Steve Donohue will be in attendance to answer any questions about their beers and their company. Steve recently shared, "Tom and I hope to see a bunch of South Bay beer fans coming out and enjoying the night with us."
It should be noted that the beer selector for House of Pizza is Jeff Wilson, a high-tech professional, avid homebrewer, and a family friend of second-generation owner George Kukar.
It was at Jeff's urging that several of the dozen taps are now devoted to craft, and he intends to keep these taps for local breweries. Helping to curate the craft beer offerings and to coordinate special beer-related events is more than just a labor of love for Jeff, who has been dining at House of Pizza ever since he was a youngster. He says, "It's self-serving for me; I want good beer with my pizza."
[This post was shared on Examiner.com.]