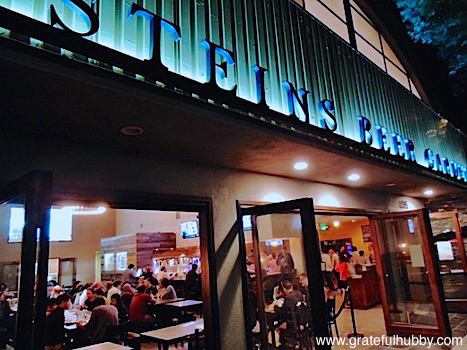 For SF Beer Week 2014, downtown Mountain View's Steins Beer Garden & Restaurant (895 Villa St.) hosts two tap takeover events featuring The Bruery and Clown Shoes Beer. More from their Facebook event page, including the beer lineup:
Tuesday, Feb. 11, 11 a.m. – Closing: The Bruery Tap Takeover
Steins Beer Garden & Restaurant welcomes The Bruery from Orange County to takeover 14 of our taps!… The beer starts flowing at 11:00am, so call in sick on February 11th to head down to Steins. Kitchen will be open and full menu available.
The Bruery began as a distraction while the founder, Patrick Rue, was attending law school. Eventually, as his skills were honed and his passions defined, the clouds opened and a ray of light shone down on Patrick – it became clear that making beer was his calling.
The following is the beer lineup:
Mischief
Rugbrød
Saison De Lente
Sour in the Rye
Melange #8
Bottleworks XII
Humulus Lager
Windowsill
Shegöat
Tout Mais Le Coller
Barrel Aged 5 Golden Rings
Rueuze
Oude Tart
Bois
Six-Geese-a-Layin
Thursday, Feb. 13, 11 a.m. – Closing: Take a Walk with Clown Shoes Beer
Steins welcomes Clown Shoes Beer to the West Coast for a Tap Takeover at the best beer drinking establishment in the South Bay! The event will begin as soon as we open our doors on February 11th and run until the beer is gone (or closing, whichever comes first). Don't miss some exclusive beers…
Clown Shoes Beer started as an entry into a Beer Advocate naming contest – an entry that did not event crack the top 5 submissions. However, with a slight chip on his shoulder, founder and general head honcho Gregg Berman decided to make his own Clown Shoes Beer. What became of it all is remarkable, as Clown Shoes Beer has debatably the most unique labels and brews in all of craft beer.
Beer lineup:
Clementine
Galactica IPA
Hoppy Feet
Muffin Top
Tramp Stamp
Vampire Slayer
Blaecorn Unidragon
Brown Angel
Chocolate Sombrero
Bombay Berserker
Genghis Pecan
Hammer of the Holy
[This post was shared on Examiner.com.]