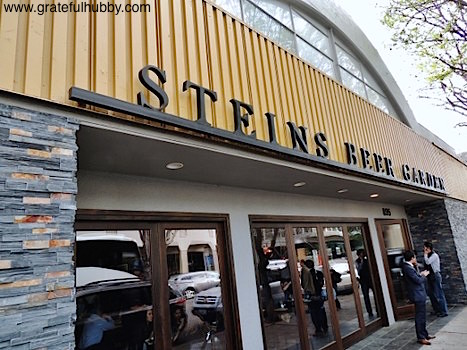 Steins Beer Garden & Restaurant in downtown Mountain View (895 Villa St.) celebrates their one-year anniversary this upcoming weekend, March 29 and March 30. There will be good food, live music from local bands and DJs, raffle with prizes, and, of course, quality beer.
The specialty and rare kegs to help commemorate the celebration include the following list for Saturday:
Lagunitas Brewing Co – High West Rye Barrel-Aged Cappuccino Stout
Calicraft Brewing Company – Buzzerkeley Sauvignon Blanc Barrel-Aged Sparkling Ale
Drake's Brewing – Rakish Ryewine
Allagash Brewing Company – Interlude
Allagash – James Bean
North Coast Brewing Company – Old Rasputin XV
Avery Brewing Company and Russian River Brewing Company – Collaboration Not Litigation Ale
Avery brewing Company – Tweak
Port Brewing / The Lost abbey – Deliverance
Lost Abbey – Cuvee de Tomme
Cismontane Brewing – Marea Roja
Cismontane Brewing – The Mesa
Mad River Brewing Company – 24th Anniversary Ale
Port Brewing/Lost Abbey – Bourbon Barrel Aged Santa's Lil Helper
New Belgium Brewing – New Belgium Loves Leopold "Butters" Stotch
Sunday's list of specialty beers includes the following offerings from Hangar 24:
Helles Lager
Orange Wheat
Tailslide
Slow Roll
Hammerhead
Pugachev's Cobra
Apart from the specialty beers listed above which will be regularly priced, all other beers will be $1.00 each from 12 noon to 1 p.m. on both days. Brewers and representatives from the various breweries will be present to mingle with guests and answer any questions. For every specialty beer sold, Steins will give out raffle tickets for chances to win gift cards and Steins Beer Garden 1-liter steins.
Executive Chef Colby M. Reade has crafted a special beer-and-food pairing for guests dining inside as well as an a la carte BBQ menu.
FOOD-AND-BEER PAIRING MENU
$50, includes 10 oz. servings of each beer
Bite
Tomales Bay Oysters with Smoked Tomato Hot Sauce and Kolsch Mignonette
Beer Pairing: Calicraft Brewing Company Cali Coast
Entree
Smoked Pork Loin with Stone Fruit Compote and Yukon Gold Potato Hash
Beer Pairing: Tap Brewing Company It Ale Camino
Dessert
S'mores House made Marshmallow and Graham Crackers with toasted nuts and Malted Chocolate Milk Ice Cream
Beer Pairing: High Water Brewing Company Campfire Stout
BBQ MENU (11am – 6pm)
Appetizers
Grilled Chili Lime Corn
BBQ Oysters with House Made Hot Sauce
Main
BBQ Plates with all the Fixin's
1/2 Chicken or Country Pork Steak with Willie's Not-Yet World Famous BBQ Sauce
Baked Beans, Cole Slaw and Corn Bread
Dessert
WHEN
March 29 & 30 (Saturday & Sunday)
Saturday hours: 11:00 a.m. – Midnight
Sunday hours: 11:00 a.m. – 10:00 p.m.
Saturday & Sunday BBQ: 11:00 a.m. – 6:00 p.m.
WHERE
Steins Beer Garden & Restaurant: 895 Villa Street Mountain View, CA, (650) 963-9568
About Steins Beer Garden & Restaurant: Steins Beer Garden & Restaurant is the vision of Bay Area native Ted Kim. Kim has more than 20 years of small business experience, including his tremendous success with Northern California's Paris Baguette stores. Steins is a salute to the traditional European beer hall and garden, infusing rustic elements of nature with brilliant contemporary architecture. The Beer Garden offers the perfect escape for guests to drink and socialize, and the Beer Hall offers an ideal environment for guests to "eat, drink, and be merry." Steins is open every day, Sundays 9:30am-10pm, Monday-Thursdays 11am-11pm (patio closes at 10pm), Friday-Saturdays 11am-11:30pm (patio closes at 11pm). Steins is located at 895 Villa St., Mountain View, CA 94041.  For more information, visit www.steinsbeergarden.com and visit the restaurant on Facebook and Twitter.
[This post was shared on Examiner.com.]