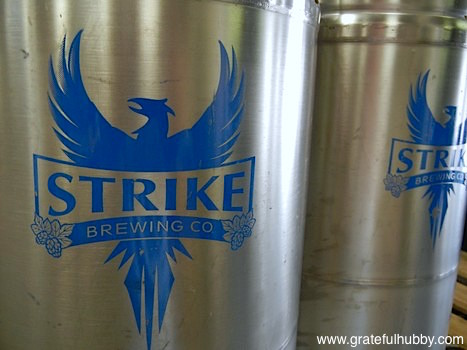 San Jose's Strike Brewing Company will be featured as a Local Foodmaker Grant winner at the Los Altos Whole Foods Market on Wed., July 2 during the "5% Day" sale.
This means that Strike will receive 5% of all proceeds at the store as a reward for being selected a local foodmaker, which was determined through a Facebook voting campaign that took place last month.
Strike is on the verge of opening their taproom and announced earlier today that the first batch of beer hit the tanks. The first brewed beer will be the aptly named Opening Pitch Session Pale Ale.
As is the case with any soon-to-open business, there is always a need for additional funds. And in Strike's case, the proceeds will go towards the purchase of all the raw ingredients that they are using to brew beer this week.
So if shopping is on the to-do list, consider supporting Strike by visiting the Los Altos Whole Foods on Wednesday.
About the Local Foodmaker Grants and 5% Day
Whole Foods Market began by selecting 120 local businesses in Northern California and Reno they were most excited about, and then tapped Working Solutions to hand it over to the community to vote on who they'd like to see receive the grant on 5% Day. Each of the 40 selected Whole Foods Market's Local Foodmaker Grant winners expect to receive anywhere from $3,000 – $6,000, which is a significant financial boon for small producers hoping to fund anything from organic certification and Non-GMO Project verification, to a down payment on a delivery van or a batch of raw ingredients.
Full List of Local Grant Winners
Whole Foods Market: Blithedale Jammit
Whole Foods Market Blossom Hill: Carolieta's Organic Kitchen
Whole Foods Market Berkeley: The Mead Kitchen
Whole Foods Market Capitola: In The Breadbox
Whole Foods Market 2001 Market Street: Yum Yum Tonics
Whole Foods Market Campbell: Snake & Butterfly
Whole Foods Market Coddingtown: Chalk Hill Cookery
Whole Foods Market Davis: Stone Soup Catering, LLC
Whole Foods Market Folsom: South Fork Farm
Whole Foods Market Fremont: Jellicles Inc.
Whole Foods Market Franklin: Nosh This
Whole Foods Market Fresno: RawFresno
Whole Foods Market Haight: Crumble & Whisk
Whole Foods Market Oakland Bubble Farm Soap Co.
Whole Foods Market Lafayette: Hollie's Homegrown
Whole Foods Market Los Altos: Strike Brewing Company
Whole Foods Market Los Gatos: DrinkDrop
Whole Foods Market Mill Valley: Nunkui Cakes
Whole Foods Market Monterey: Super Natural Foods Company
Whole Foods Market Noe Valley: Sal De Vida Gourmet
Whole Foods Market Novato: Farmer Joy
Whole Foods Market Napa: Plumeria Flours
Whole Foods Market Ocean: Bini's Kitchen
Whole Foods Market Palo Alto: Root Down Farm
Whole Foods Market Petaluma: Weirauch Farm & Creamery
Whole Foods Market Potrero Hill: Indian Bento
Whole Foods Market San Ramon: JK Naturals
Whole Foods Market Redwood City: Spread the Love
Whole Foods Market Reno: Bigtruck Brand
Whole Foods Market Roseville: Nacheez & The Cultured Kitchen
Whole Foods Market Sacramento: Simply Manna
Whole Foods Market Sebastopol: The Kefiry
Whole Foods Market San Mateo: Sprogs
Whole Foods Market Sonoma: Milk & Honey Ice Cream LLC
Whole Foods Market SOMA: Sugarfoot Grits
Whole Foods Market San Rafael: Toluma Farms & Tomales Farmstead Creamery
Whole Foods Market Santa Rosa: OZ Family Farm
Whole Foods Market Stevens Creek: Karinto Krisps & Peacecock & RawDaddy Foods
Whole Foods Market Santa Cruz: Friend in Cheeses Jam Co
Whole Foods Market Walnut Creek: Body by Bees
[This post was Examiner.com.]