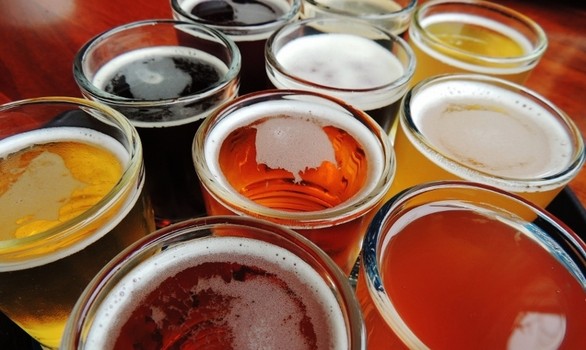 Part of the family plan on a recent Sunday was a visit to Half Moon Bay, which included a lunch stop at Half Moon Bay Brewing Company (390 Capistrano Rd.).
Thanks to the scenery along 280 and 92, the drive from the South Bay was an enjoyable one, and before long, we arrived at the Brewing Company. A sizable outdoor crowd had already formed, and we opted for a bright indoor table spot with an enviable coastal view.
Towards the back of the main menu was an easy-to-follow overview of the brewing process and a photo of Half Moon Bay Brewing brewmaster James Costa and head brewer Shane Aldrich. Collectively, "[Costa and Aldrich] have created many spectacular beers in their combined 30+ years of experience, winning multiple gold medals at the Great American Beer Festival and the California State Fair."
A nice feature on the beer menu was the inclusion of IBUs (International Bittering Units) to accompany the ABV details and beer descriptions of all 10 Mavericks® beers on tap. Two beer sampler orders consisting of four oz. pours provided the opportunity to try all 10. The beers are listed below with my brief tasting notes.
Big Break Kölsch-Style Ale – Pleasant, biscuity aroma and flavor.
Bootlegger's Brown Ale – Nice, roasty aroma and roasted coffee flavor. Very good.
Amber Ale – Delicious malty, balanced beer.
Princeton-by-the-Sea IPA – Grapefruit and citrus aromas with a strong grapefruit flavor.
SHS #9 Amarillo – Floral aroma. Distinctive orange-like flavor with pine on the finish.
Pumpkin Harvest Amber Ale – Pumpkin pie aroma and a touch of pumpkin pie spice in the flavor. Very enjoyable.
Swamp Donkey American Stout – A pleasant smokiness in the aroma with a coffee flavor profile.
Not for Sale Saison – Enjoyable layers to the aroma and flavor profiles. A pleasant, peppery spiciness, especially in the aftertaste.
Tunnel Vision IPA – Citrusy, hoppy, slightly piney. Delicious. Awesome.
Belgian Style Wit – Hints of orange and coriander. Refreshing, palate cleanser.
Overall, the beers were well crafted with standouts Amber Ale, Pumpkin Harvest Ale, Not for Sale Saison and Tunnel Vision IPA leading the way. The Belgian Style Wit was a bit thin bodied but still proved to be tasty and refreshing.
As for the food, the Seafood Duo starter (Yucatán Ceviche and Ahi tuna poke served with housemade tropical salsa, fried wontons and tortilla chips) was excellent – fresh and delightful – and the Grilled Wild Salmon was spot on, pairing particularly well with the Not for Sale Saison.
And the service was excellent. Shift manager Kyle McCarthy and the service team had complete control during a busy Sunday lunch, and after a very satisfying lunch and beer tasting experience, all that was left to do was to burn some calories with a long walk along the bustling shoreline.
Busy Time of Year
It certainly is a busy season for Half Moon Bay Brewing Company, as they juggle a myriad of events taking place during this time of the year, a couple of which include hosting special events for the very first time.
Pumpkin Harvest Dinner
On Tues., Oct. 7 at the adjacent Mavericks Event Center, Half Moon Bay Brewing Company hosts their inaugural Pumpkin Harvest Dinner. Chef Gaston Alfaro will present a five-course meal that includes pumpkin in every course. Each course will be paired with a different pumpkin beer.
Brewmaster Costa and head brewer Aldrich will unveil their new Imperial Pumpkin Barleywine at this special dinner, alongside their seasonal Pumpkin Harvest Ale. Other pumpkin-inspired brews will come from San Francisco's Almanac Beer Company and 21st Amendment Brewery. Like all quality beer dinners, brewers will be in the house to introduce and discuss their particular beers.
Here is the food menu:
Appetizers
Crispy Butternut Squash Ravioli
Crispy Chicken & Pumpkin Eggrolls
1st course
Vegetarian Pumpkin Bisque made with local sugar pie pumpkins, topped with candied ginger.
2nd course
Local Brussel Sprout Salad with Applewood Smoked Bacon, mixed baby greens tossed in Pumpkin Vinaigrette and topped with toasted Pumpkin Seeds, and local Harley Farms Goat Chevre, and roasted pimentos.
Vegetarian option: salad without bacon
3rd course
Pork tenderloin with herb risotto and local Swiss chard, topped with roasted pumpkin and cranberry relish.
Vegetarian option: Herb risotto topped with roasted pumpkin, cranberry pumpkin relish, served with local Swiss chard.
4th course
Homemade Gingersnap Crust Pumpkin Cheesecake
Made with fresh gingersnap cookies and local sugar pie pumpkins.
Reservations are required as space is limited. Tickets are $75 including tax and tip and available for purchase online. Vegetarian options are also available, and those with questions may call 650-728-2739.
Inaugural Coastside Brewfest
Half Moon Bay Brewing Company is hosting the inaugural Coastside Brewfest in their expansive parking lot on Sat., Oct. 25 from 1-5pm.
Breweries scheduled to pour include Hop Dogma, Highway 1, Drake's, Marin, Moylan's, 21st Amendment, Faction, Heretic, Cellarmaker and others.
[List of participating breweries updated Oct. 3 via Half Moon Bay Brewing's Facebook page: Mavericks, 21st Amendment, Cellarmaker, Drake's, Deschutes, Devil's Canyon, Faction, Heretic, Highway 1, Hop Dogma, Marin, Moylan's, Santa Cruz Ale Works, Stone and Uncommon Brewers.]
There will be Off the Grid food trucks, and Half Moon Bay Brewing Company will also be open for business.
Tickets are $25 if purchased online in advance or $35 at the door. A portion of the festival's proceeds will be donated to Coastside Hope. Any questions can be directed to 650-728-2739.
[This post was shared on Examiner.com.]