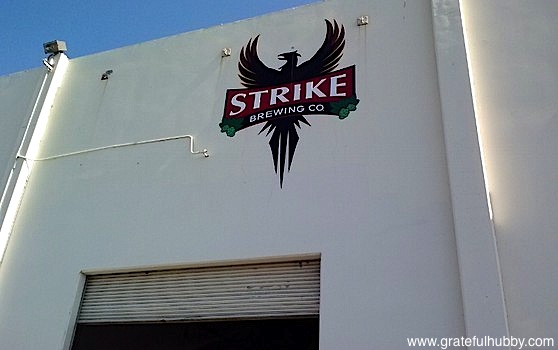 A significant milestone in the San Jose and South Bay beer scene takes place Sat., Oct. 4 as San Jose's Strike Brewing Company (2099 S. 10th St., #30) celebrates the grand opening of their warehouse taproom and brewery from 2-8pm.
After a two-and-half month soft opening period, the grand opening marks the first time that all 8 taps will be in full use, featuring the following lineup of seasonal and year-round beers:
Oktoberfest (seasonal and making its debut) – IBU: 28, ABV: 7%
Porter (seasonal) – IBU: 23, ABV: 5%
Double IPA (seasonal) – IBU: 93, ABV: 8%
Chin Music Extra Pale Ale (seasonal) – IBU: 42, ABV: 7%
Imperial Red (year-round) – IBU: 23, ABV: 6.5%
Brown (year-round) – IBU: 30, ABV: 4.8%
Blonde (year-round) – IBU: 35, ABV: 4.5%
IPA (year-round) – IBU: 89, ABV: 5.9%
To help keep the beer line to a minimum, drink tickets can be purchased online in advance and will be traded for drink tokens upon arrival.
Co-founder and CEO Jenny Lewis recently provided me the following details regarding the grand opening:
"Please bring your own chairs! We expect to be tight on seating. Food vendors will include Fusion Jerky and the awesome food truck – Melts My Heart.
"We'll have a band – Alec Lytle & Them Rounders – and games like corn hole set up. New merchandise apparel will be available, and a portion of the proceeds will support the US Pain Foundation.
"We won't be doing flights that day, just pints. Pints of all beer will be $4 during the grand opening, and [co-founder and brewmaster] Drew [Ehrlich] will provide brewery tours at 3, 4, 5 and 6pm."
About Strike
Strike Brewing Company makes thirst-quenching, "session" beers as well as seasonal and specialty brews. On pace to produce 1,000 barrels this year, they are distributed all over the Bay Area and various parts of Southern California. The warehouse taproom and brewery is located in San Jose, California.
[This post was shared on Examiner.com.]