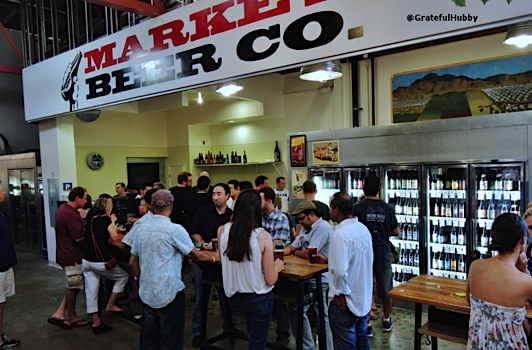 The next organized beer crawl taking place in downtown San Jose – thanks to distributor DBI Beverage Inc. – is set for Wed., Oct. 8 beginning at 5pm at Market Beer Company in San Pedro Square Market.
The beer crawl features offerings from San Diego's Saint Archer Brewing Company, announcing just yesterday the expansion of their line of beers across the Bay Area thanks, in part, to a partnership with DBI.
The designated stops along the beer crawl include Market Beer Company, Original Gravity Public House, Smoke Eaters and Cinebar.
5-6:30pm – Market Beer Company in San Pedro Square Market (100 N. Almaden Ave.)
6:30-7:45pm – Original Gravity (66 S. 1st St.)
7:45-8:30pm – Smoke Eaters (29 S. 3rd St.)
8:30-10pm-ish – Cinebar (69 E. San Fernando St.)
Look for beer-battered fish and chips at Original Gravity made with the Saint Archer White Ale, which won gold in the Belgian Style Wit Bier category at this year's Great American Beer Festival held this past weekend.
[This post was shared on Examiner.com.]