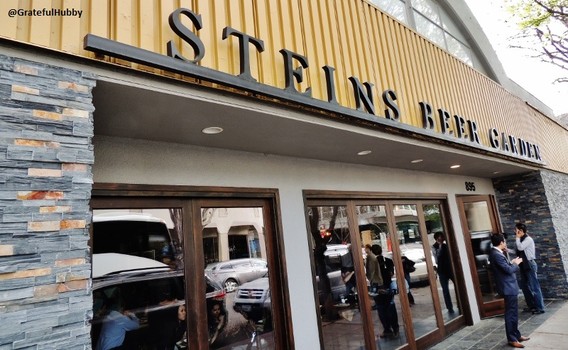 Thanks to a carefully curated draft beer lineup, a knowledgeable staff and an ongoing schedule of tap takeovers and other special beer-centric events, Steins Beer Garden & Restaurant in downtown Mountain View (895 Villa St.) continues to enlighten the uninitiated to the joys of beer as well as engage the bona fide beer geeks.
The focus on beer quality should be no surprise to those who know owner Ted Kim, a passionate beer enthusiast. Since the opening of Steins early last year, Kim and his team have actively sought ways to improve the customer experience, and their efforts have been paying off as evidenced by the often bustling restaurant. Many are repeat visitors ostensibly drawn to the ambience, service, drinks and the offerings of executive chef Colby M. Reade and his modern American gourmet comfort food.
In time for the new year, Chef Reade has created new dishes that feature made-from-scratch cooking with seasonal ingredients and local products.
Sample Lunch Items
Italian Beef: Slow roasted sirloin / smoked provolone / spicy veggie relish / herb aioli / housemade hoagie roll (15)
Pulled Pork: 18-hour smoked pork / classic slaw / grandma's pickles / willie's not-yet-world-famous BBQ Sauce (14)
Breakfast for Dinner 2.0 (a Steins favorite slightly revamped): Smoked pork belly / honey mustard waffle / 5 min egg / au jus (20)
Sample Dinner Items
Brunswick Stew: Pulled chicken / smoked pork / hush puppies / mixed peppers (25)
Pork Steak with Jalapeno Grit Cake: Dry rubbed country pork steak / anson mills grits / old fashioned slaw (23)
Jambalaya: Tasso ham / smoked chorizo / pulled chicken / pork belly / spicy creole sauce (24)
Full menus are available online.
Dinner Hours
Monday – Friday |  5:00 p.m. – close
Saturday & Sunday | 4:00 p.m. – close
Lunch Hours
Monday – Friday | 11:00 a.m. – 3:00 p.m.
Brunch Hours
Saturday | 11:00 a.m. – 4:00 p.m.
Sunday | 9:30 a.m. – 4:00 p.m.
Happy Hour
Monday – Friday | 3:00 p.m. – 6:00 p.m.
[This post was shared on Examiner.com.]